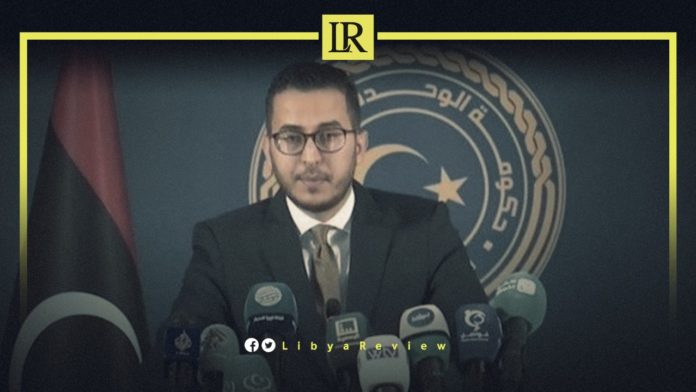 The Spokesman of the Libyan Government of National Unity (GNU), Mohamed Hammouda said on Monday, that Foreign Minister Najla Al-Mangoush would continue to work as normal, according to a statement issued by the Cabinet.
In press statements, Hammouda added that Prime Minister, Abdel-Hamid Dbaiba has not yet confirmed his participation in the Paris Conference on Libya scheduled to be held on 12 November. He noted that this conference aims to advance the political process and support efforts to implement the ceasefire agreement, in addition to ensuring the equitable distribution of wealth.
Notably, the Libyan Presidential Council decided to suspend Al-Mangoush from her duties. This was taken as "a precaution" to investigate the "administrative violations" attributed to her. It added that the violations include carrying out foreign policy without coordinating with the Presidential Council.
The Libyan Presidential Council's Resolution No. 44 of 2021 issued on Saturday, stipulated banning Al-Mangoush from travling abroad until the completion of the investigation.
It formed a committee headed by Vice-President, Abdullah Al-Lafi, and included Adel Mohamed Sultan, and Ahmed Jumaa Aqoub. According to the resolution, the committee should submit the results of its work within a maximum deadline of 14 days.
On Sunday, Libya's Government of National Unity (GNU) rejected the Presidential Council's decision to suspend Al-Mangoush from work and prevent her from traveling.
In its statement, the Cabinet commended the Minister's efforts, instructing her to continue her work. It added that there is "no legal right for the Presidential Council to appoint, cancel the appointment of members of the executive authority, suspend them, or investigate them." The statement explained that such decisions are the exclusive powers of the Prime Minister.
The Libyan FM denied statements attributed to her regarding the Lockerbie case suspect, Abu Agila Masud during her interview with BBC. She explained that she answered a question related to the Lockerbie victims and the victims of the Manchester Arena bombing in 2017, perpetrated by a dual Libyan/British national.
The Libyan FM noted that these cases fall under the jurisdiction of the Office of the Public Prosecutor in Libya, which is responsible for addressing issues between the judicial institutions of the two countries.