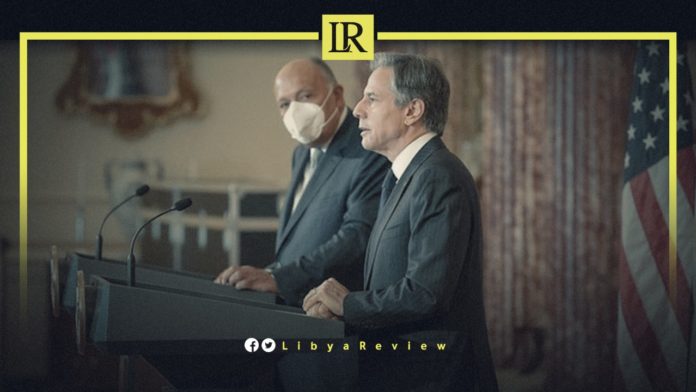 The US Secretary of State, Antony Blinken confirmed that he and his Egyptian counterpart, Sameh Shoukry confirmed the need for all foreign forces and mercenaries to withdraw from Libya. During a joint press conference in Washington, Blinken also stressed the importance of holding the Libyan elections on time.
Shoukry stressed the necessity of holding the Libyan Presidential and Parliamentary elections on their scheduled dates, and the importance of the exit of all foreign forces, mercenaries, and foreign fighters from Libyan territory.
On Monday, Egyptian President, Abdel-Fatah El-Sisi held a telephone call with his French counterpart, Emmanuel Macron to discuss the latest developments in Libya.
The two leaders agreed to support the current political track leading to elections slated for 24 December. They also emphasised the need for all foreign forces and mercenaries to withdraw from Libya, and to end all foreign intervention that has contributed to fuelling the crisis.
They also discussed the ongoing preparations for the international conference on Libya, which is scheduled to be hosted by France on 12 November.
Notably, French Foreign Minister, Jean-Yves Le Drian said that one of the items on the agenda will be to discuss the Libyan authorities' plan to expel foreign forces and mercenaries from Libya.
In his speech during the Libya Stabilisation Conference in Tripoli in October, Le Drian said, "the Summit, organised with the United Nations, Germany, and Italy in Paris for 12 November, will gather regional and international Heads of State. It will provide the last international impetus needed in support of the elections at the end of the year and endorse the Libyan plan for the departure of foreign forces and mercenaries and support its implementation, to put an end to foreign interference."
The hope is that the international conference will help rival Libyan parties find common ground, given the recent wrangling which has cast doubts over the viability of December's Presidential elections.
The conference comes ahead of the planned Presidential and Parliamentary elections, which are scheduled for 24 December.