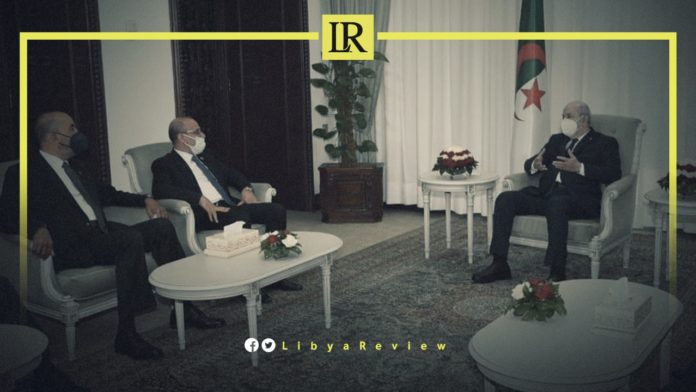 On Tuesday, Algerian President, Abdelmadjid Tebboune received the Vice-President of the Libyan Presidential Council, Mousa Al-Koni and Chief of Staff, Mohamed Al-Haddad on a two-day official visit to Algeria.
During the meeting, they discussed ways of enhancing bilateral cooperation, and exchanged views on regional and international issues of common interest, especially with regard to the latest developments in the Libyan political arena. This comes ahead of the long-awaited elections on 24 December, the Algerian presidency announced in a statement.
President Tebboune renewed Algeria's unconditional support for the success of the political settlement in Libya. He pointed out that the only way out of the Libyan crisis will be politically, through mechanisms of dialogue and reconciliation. As well as stressing the need to remove all mercenaries and foreign forces from Libya.
He confirmed that Algeria attaches great importance to the upcoming Libyan elections, and is mobilising the necessary international support to maintain the security and stability of Libya, and all neighbouring countries. He added that Libya's human and economic capabilities, in addition to its geographical location, enable it to play a key role in the region.
On Monday, Libya's High National Electoral Commission (HNEC) opened the registration process for candidates in the upcoming Presidential and Parliamentary elections in December. The elections are seen as an essential step toward normalcy, after nearly a decade of war affecting the country.
Libya's first-ever direct upcoming presidential vote is the culmination of the year-long peace process under the auspices of the United Nations.
Despite a year of relative peace following a ceasefire between eastern and western rival forces, wrangling over the legal basis for the elections has threatened to derail the peace process. This has sparked fears of a return to violence in the event of a contested result.
Registration for Presidential candidates would remain open until 22 November and for Parliamentary candidates until 7 December in Tripoli, Benghazi, and Sebha.
More than 2.8 million of Libya's 7 million residents have registered to vote.