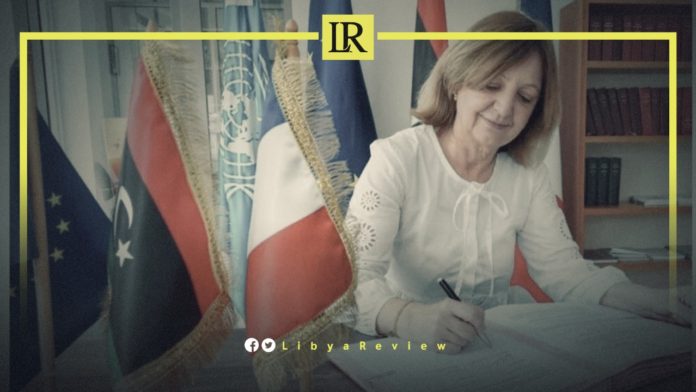 On Tuesday, the Second Deputy Speaker of the Libyan Parliament, Ahmed Houma held a meeting in Tunis with France Ambassador to Libya, Béatrice du Hellen to discuss the latest preparations for the elections slated for 24 December.
During the meeting, the Ambassador affirmed her support for holding the Presidential and Parliamentary elections on time, in accordance with the laws issued by the Libyan Parliament.
They also discussed preparations for the international conference on Libya in Paris, scheduled to be held on 12 November.
The two sides highlighted the importance of achieving national reconciliation among the Libyan parties, and maintaining social peace across the country.
It is expected that the Paris Conference on Libya will be held with the participation of representatives of the Libyan government, and the attendees of the Berlin Conferences. The countries neighbouring Libya are also invited to this event.
The conference will be chaired by French President, Emmanuel Macron. German Chancellor, Angela Merkel and United States Vice President, Kamala Harris have confirmed their attendance.
Earlier, French Foreign Minister, Jean-Yves Le Drian said that one of the items on the agenda will be to discuss the Libyan authorities' plan to expel foreign forces and mercenaries from Libya.
In his speech during the Libya Stabilization Conference in Tripoli in October, Le Drian said, "the Summit, organized with the United Nations, Germany, and Italy in Paris for 12 November, will gather regional and international Heads of State. It will provide the last international impetus needed in support of the elections at the end of the year and endorse the Libyan plan for the departure of foreign forces and mercenaries and support its implementation, to put an end to foreign interference."
The hope is that the international conference will help rival Libyan parties find common ground, given the recent wrangling which has cast doubts over the viability of December's Presidential elections.
The conference comes ahead of the planned Presidential and Parliamentary elections, which are scheduled for 24 December.