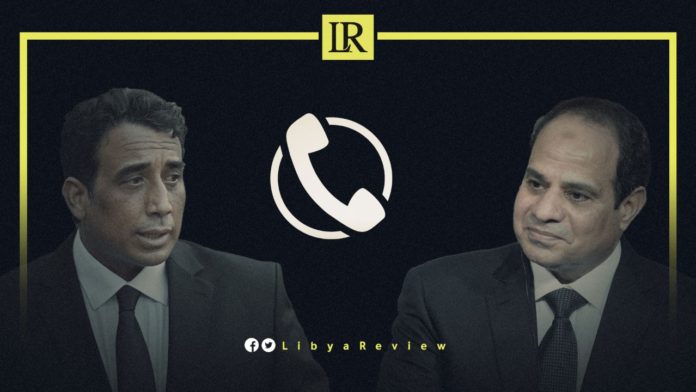 On Tuesday, Egyptian President, Abdel-Fatah El-Sisi affirmed Egypt's full support for the political track aimed at settling the Libyan crisis in all bilateral, regional, and international forums.
During a telephone conversation with the Head of the Libyan Presidential Council, Mohamed Al-Mnifi, President El-Sisi expressed Cairo's keenness to strengthen coordination with Libya to ensure the unification of all state institutions.
The President stressed the importance of holding the Presidential and Parliamentary elections as scheduled, based on the laws approved by the Libyan Parliament.
He also emphasised Egypt's full support for the efforts to withdraw all foreign forces and mercenaries from Libya. As well as maintaining the supreme interest of the Libyan state, and ending all forms of foreign interference in its internal affairs.
El-Sisi asserted that the elections, scheduled to be held on 24 December, "represent an important and landmark step for Libya's transition to a new reality and a sustainable political system based on the free will of the Libyan people," according to a statement issued by the Egyptian presidency.
In turn, Al-Mnifi expressed his sincere appreciation for the tireless Egyptian efforts to support Libya.
He also hailed Cairo's pioneering regional role, and the extended and fraternal relations linking the two neighbouring countries and brotherly peoples.
On Monday, Libya's High National Electoral Commission (HNEC) opened the registration process for candidates in the upcoming Presidential and Parliamentary elections in December. The elections are seen as an essential step toward normalcy, after nearly a decade of war affecting the country.
Libya's first-ever direct upcoming presidential vote is the culmination of the year-long peace process under the auspices of the United Nations.
Despite a year of relative peace following a ceasefire between eastern and western rival forces, wrangling over the legal basis for the elections has threatened to derail the peace process. This has sparked fears of a return to violence in the event of a contested result.