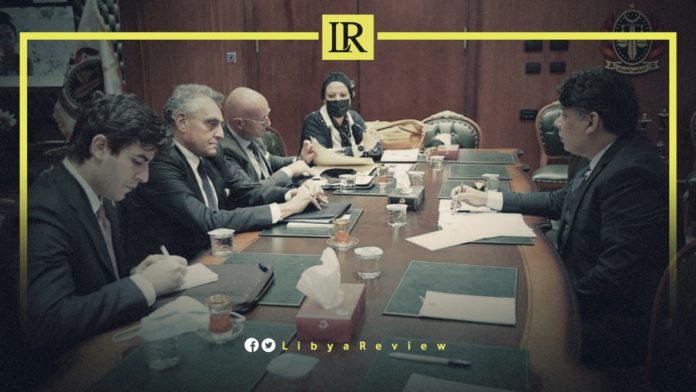 Libya's Attorney General, Al-Siddiq Al-Sour received the Italian Ambassador to Libya, Giuseppe Buccino, and the Italian Consul, Ernesto Chiquitelli in Tripoli.
The meeting dealt with ways to enhance judicial cooperation in criminal matters between the Libyan and Italian public prosecutors. This is by responding to requests for mutual legal assistance submitted by either party.
They also discussed requests for mutual legal assistance related to the developments in the case of the killing of Italian migrants in 2015. As well as the results of the investigations by Libya in countering transnational organized crime, including human trafficking.
The attendees also discussed ways to raise the skills of the Libyan Public Prosecution by developing and implementing training programs.
Last month, Ambassador Buccino expressed his optimism and confidence regarding the democratic future of Libya. He noted, in a statement to the Hakomitna platform, that the Libyan Stabilisation Conference was a positive sign that stability was returning, and was heading in the right direction.
"For the first time in many years, Libya is hosting an international conference with more than 30 delegations. This is a very positive sign that stabilization is going in the right direction. I have the privilege of being an Ambassador in Libya. l also was Ambassador to Libya from 2011 to 2015 and once again, starting from February 2019. It is the first time that I see such a positive scenario: stability, calm, peace and people looking towards getting a better life," he said.
"This democratic transition towards the elections is set to prepare a future of prosperity for the whole country. For me as an Italian, a country close to Libya from every point of view, it is a great pleasure being here with Foreign Minister Luigi Di Maio. We are optimistic and confident about the future and the democratic transition of Libya and the upcoming elections," the Ambassador noted.