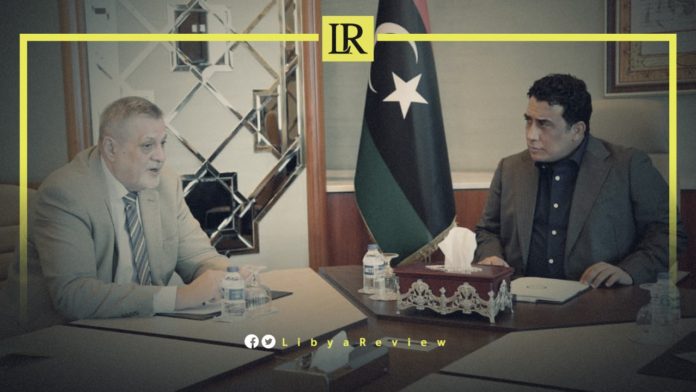 On Wednesday, Head of the Libyan Presidential Council, Mohamed Al-Mnifi held a meeting with the UN Envoy for Libya, Jan Kubis and affirmed the need to hold the elections on time.
According to a statement, Al-Mnifi stressed the need for concerted international efforts to move past the current stage. This includes holding Presidential and Parliamentary elections simultaneously.
In turn, the UN envoy renewed the commitment of the United Nations to work to achieve stability and peace in Libya.
The meeting touched on the international conference that will be held in Paris in November, and to be attended by heads of state. This is to discuss the situation in Libya and ways to ensure the removal of mercenaries and foreign forces.
Last week, French Foreign Minister, Jean-Yves le Drian stated that next month's conference on Libya aims to provide a final international push so that elections would be held as scheduled, and endorse the departure of foreign forces.
In his speech during the Libya Stabilisation Conference in Tripoli, the French FM said, "the summit, organised with the United Nations, Germany, and Italy in Paris for 12 November, will gather regional and international heads of state. It will provide the last international impetus needed in support of the elections at the end of the year and endorse the Libyan plan for the departure of foreign forces and mercenaries and support its implementation, to put an end to foreign interference."
On Sunday, Head of Libya's High Electoral National Commission (HNEC), Emad Al-Din Al-Sayeh said the registration for candidates in Libya's Presidential and Parliamentary elections will open in November.
During a press conference on Sunday, he confirmed that the first round of the Presidential elections will be on 24 December, while the second round will take place simultaneously with the Parliamentary elections, "which will then be held at a later date."
HNEC also published the registered voter's list on 25 October. "Appeals to should only be submitted within 48 hours from the list's publication," he noted.
Notably, the Libyan Parliament approved a law for Parliamentary elections to take place a month after the planned 24 December presidential elections.
The UN-backed roadmap called for parliamentary and presidential elections on 24 December.