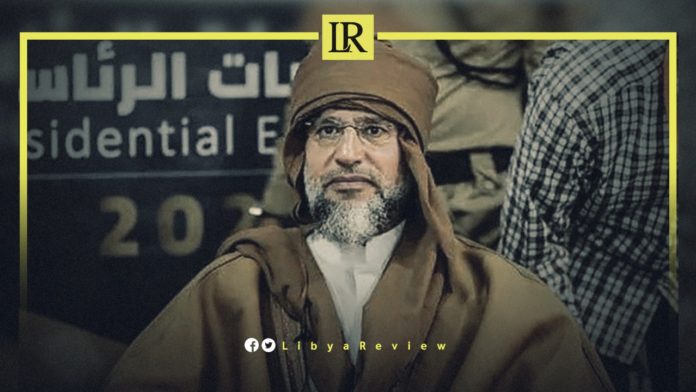 On Monday, Saif Al-Islam Gaddafi, son of the late Libyan leader Muammar Gaddafi said that Gunmen had surrounded the Sebha Courthouse building for the second day in a row, preventing judges and employees from entering.
Saif Al-Islam said in a tweet that this caused the postponement of the appeal submitted by his lawyer, Khaled Al-Zaydi. This is against the decision of the High National Elections Commission (HNEC) regarding his exclusion from running in the Presidential elections scheduled for 24 December.
On Sunday, Saif Al-Islam stated that his lawyer had left the courtroom after the judges failed to hold the session. The hearing of the appeal was suspended for the second day in a row.
A member of the defence team, Mohamed Al-Qaylushi said in a statement to Al Arabiya.net that Gunmen surrounded the entrances to the city of Sebha, and the courthouse to prevent the judges from deliberating the appeal.
"The responsibility now rests with the countries that support and sponsor the political process in Libya, the United Nations, and the Security Council, which pledged in its recent resolutions to punish elections spoilers," Al-Qaylushi added.
Al-Zaydi said last week that HNEC's decision to exclude Saif Al-Islam from the Presidential race is "a legal violation."
He explained in press statements that the decision was based on Article 10 of the Presidential Election Law. This stipulates that no final judgment must have been issued against the candidate in criminal cases.
"This article does not apply Saif Al-Islam, because no final court ruling has been issued against him for any felony or crime. We have also submitted a criminal status certificate proving that he has no criminal record," Al-Zaydi said.
HNEC said in a statement last week that it also rejected the bids of 25 candidates "based on legal grounds, as well as based on information from officials including the Public Prosecutor, a Police Chief and the Head of the Passports and Citizenship Department."