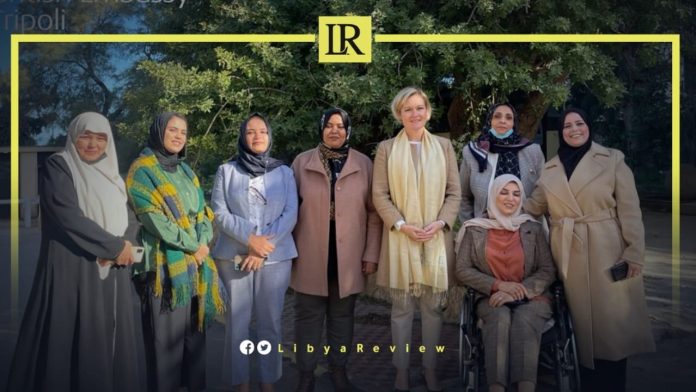 The United Kingdom's Ambassador (UK) to Libya, Caroline Hurndall stressed that the country needed female candidates and voters to have a "safe and inclusive space" to enhance their political participation.
This came during her meeting with a number of women from Libya, where she listened to their experiences with regard to participating in the decision-making process.
"Pleased to have met today with Libyan women and enjoyed learning about their journey to take part in decision making. Libya is leading up to elections. It is crucial that female candidates and voters secure a safe and inclusive space to strengthen their political participation," the Ambassador tweeted.
Last week, Ambassador Hurndall renewed her support for holding Libya's elections as scheduled, on 24 December. She praised the efforts made by the High National Elections Commission (HNEC) regarding the electoral process.
She met with HNEC Head, Emad Al-Din Al-Sayeh in Tripoli. The two discussed the latest developments in the electoral process and preparations for the next phase. As well as the mechanisms for the participation of international observers in monitoring the elections.
The British Legal Advisor to the United Nations, Chanaka Wickremasing he stressed the need for the withdrawal of foreign forces and mercenaries from Libya without delay.
During a briefing to the Prosecutor of the International Criminal Court (ICC) in the Security Council on Libya on Wednesday, Chanaka affirmed the UK's support for Prosecutor, Karim Khan in carrying out his important duties, welcoming his report, and his intention to visit Libya early next year.
"I would like to reaffirm the UK's full support for the Libyan led, Libyan owned process that has got us to this stage," Chanaka said.
He stressed that Libya's elections should be free, fair, and transparent, and allow for the full, equal, and meaningful participation of women and youth.
The UK strongly urged all Libyan actors to respect the electoral calendar, refrain from actions that would disrupt the electoral process, and resolve any disputes through legitimate pathways.
"Actions that undermine this process only risk a return to conflict and entrenched divisions within Libya. We should not hesitate to use all the tools available, including sanctions, against those who attempt to undermine the process," he stressed.
"It is crucial that there is a smooth, peaceful transfer of power following elections in Libya," the British official said. As well as calling on candidates for the Presidential elections to work together in good faith before, during, and after the elections to avoid instability.