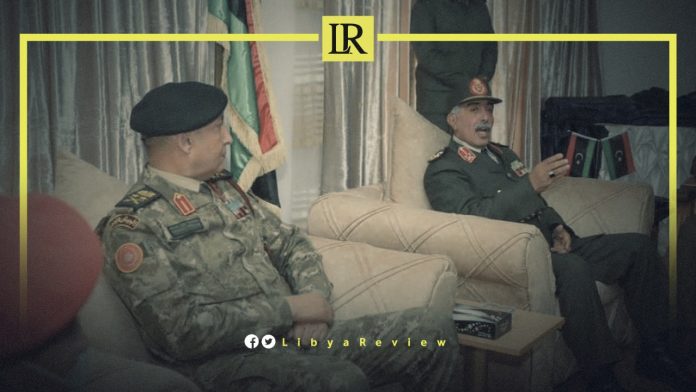 The UN Support Mission in Libya (UNSMIL) warmly welcomed the meeting that took place on the 11th of December between Major General Mohamed Al-Haddad, and the designated Commander in Chief of the Eastern-based Libyan National Army (LNA), Lieutenant-General Abdulrazek Al-Nathouri.
In a statement, UNSMIL said that it encourages all sides to take the concrete steps further towards unifying state institutions, including military and security institutions.
After the meeting, Al-Nathouri said that his meeting with the Al-Haddad in Sirte, "was very cordial and our understanding is faster than what the Libyan people expect." He added, "we, the Libyans, will unify the military establishment without foreign interference."
He continued, in statements on the sidelines of his meeting with Al-Haddad, that the meeting was Libya – Libya "pure", and that "all points of view are close."
Al-Nathouri stressed that the responsibility of the military institution is to protect the homeland and the constitution, as well as to preserve the institution. He noted, "we agreed to unify the military institution, soon, without any interference from anyone. We will unite it as its sons."
He added that other meetings will be held between the two parties in the coming days, while "we are waiting for the 5 + 5 Joint Military Committee (JMC) to join these meetings, which will be consecutive without interference from any foreign party."
Al-Nathouri indicated that the military institution distances itself from any interactions between the Libyan people or between politicians and parties. This is because its responsibility is to protect the homeland, the constitution and the course of the political process. He pointed out that this institution will not neglect the right of the army, which all successive governments have deprived of its rights 11 years ago.
He said, "these rights are represented in the army's budgets and the funds allocated for training and the provision of military clothing and supplies in light of these governments' claims of their desire to rebuild this army. This will not interfere with civilian life but will also not allow civilians to manipulate it and the military institution."
Al-Nathouri stressed the army's desire to rebuild the military institution with the aim of protecting Libya's borders. He explained that this will reflect positively on the security of Libya and its neighboring countries. He called on these countries not to interfere in the internal affairs of Libya. This at a time when the institution remains one because the meetings of its unification are very friendly and understanding is achieved through them very quickly.