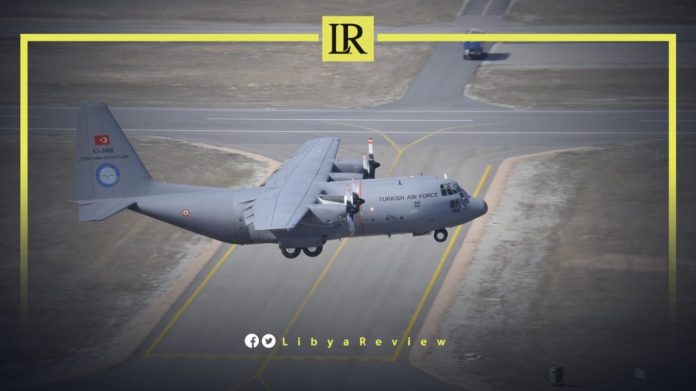 The Italian website 'ItaMilRadar', which specializes in monitoring military aircraft, reported that a Turkish plane had landed in northwestern Libya.
The website stated that the Airbus A400M-180 plane departed Ankara, and landed in Misrata on Wednesday.
Turkey is believed to control a number of military bases in western Libya, most notably the Al-Watiya airbase. Ankara also recruited more than 18,000 Syrian mercenaries, according to the Syrian Observatory for Human Rights (SOHR ).
The North African country has been mired in civil war since the overthrow of Libyan late leader, Muammar Gaddafi in a 2011 uprising.
The bloodshed has drawn in competing Libyan factions and Islamist groups, as well as foreign powers.
In September, Libyan Foreign Minister Najla Al-Mangoush called on Turkey to work with the Government of National Unity (GNU), and begin withdrawing all foreign forces and mercenaries from Libya.
"We call on Turkey to cooperate with us regarding the implementation of the ceasefire agreement and the outcomes of the Berlin Conference," Al-Mangoush said in a press conference with her Turkish counterpart, Mevlut Cavusoglu in Tripoli.
Stephane Dujarric, Spokesman for the Secretary-General of the United Nations, stressed the need for all mercenaries to withdraw from Libya as soon as possible.
"We have always called on mercenaries who do not represent the Libyan armed forces to leave as soon as possible, and we do not see any obstacles for them to do so," he said.
Libya's 5+5 Joint Military Commission (JMC) is discussing the mechanisms for the withdrawal of foreign forces and mercenaries.
After the meeting held in Geneva on 8 October, the JMC signed a comprehensive Action Plan for the "gradual, balanced, and sequenced withdrawal of mercenaries, foreign fighters, and foreign forces from Libyan territory."
In November, the JMC announced that it had reached an agreement with Sudan, Chad, and Niger to withdraw their mercenaries and foreign fighters from Libya. This came during the meeting held between JMC members and representatives of these countries in Cairo.