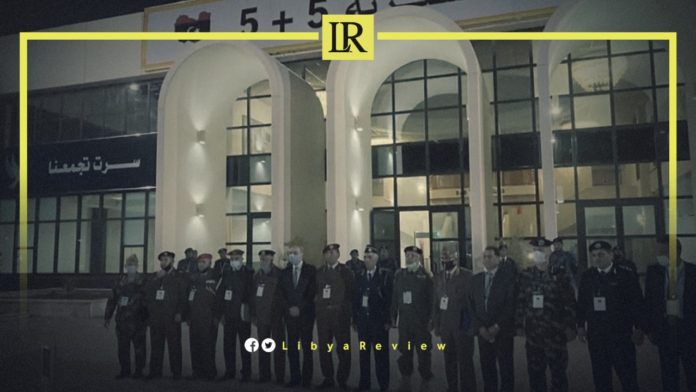 On Friday, a member of Libya's 5+5 Joint Military Commission (JMC), Lieutenant-General Khairi Al-Tamimi announced that the committee will meet in the first week of October in Geneva.
Al-Tamimi added that the JMC will discuss the exit of mercenaries and foreign forces from the country.
"The JMC will inform the higher committee to follow up on the implementation of the outputs of the Berlin Process on the plan for the exit of foreign forces from Libya, and the timetable for that," said Jamal Shallouf, the Head of the Silphium Foundation for Studies and Research, according to Sky News Arabia.
The JMC's conclusion of a ceasefire agreement, on 23 October 2020, represented a turning point in the Libyan crisis. It t opened the door to completing other tracks, such as political dialogue. A roadmap was agreed with the formation of a Government of National Unity (GNU), and general elections on 24 December.
The most prominent items that were achieved in the agreement are the ceasefire, the opening of the Coastal Road, and the Prisoners of War exchange.
Foreign forces were scheduled to withdraw from Libya within a maximum period of three months from the date of signing the ceasefire, but that has not been implemented yet.
On Tuesday, JMC members met with officers of the United States Africa Command (AFRICOM) in Tripoli. They discussed ways to ensure the withdrawal of mercenaries and foreign forces from Libya.
Libyan Prime Minister, Abdel-Hamid Dbaiba, US Envoy to Libya Ambassador Richard Norland, and AFRICOM Commander, Stephen Townsend attended the meeting.
Well informed sources told Sky News Arabia that the JMC had reached a timetable and plan for the withdrawal of all mercenaries in the country. These exceed 20,000 fighters, according to the estimates of the United Nations Support Mission in Libya (UNSMIL).
This withdrawal process is scheduled to continue after the planned 24 December elections.