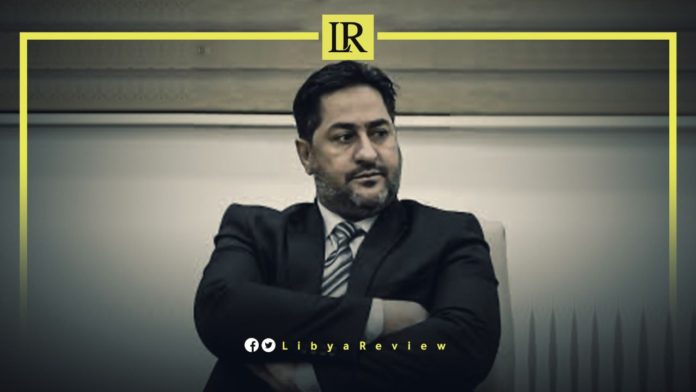 A member of the Libyan House of Representatives (HoR), Saeed Amgheib, strongly denounced the Prime Minister of the Government of National Unity (GNU) for deliberately depriving forces of the Libyan National Army (LNA) of receiving their salaries.
"In all countries around the world, governments are endeavouring to provide money and everything their armies and various security services need in order to protect their borders and impose security," the Libyan lawmaker said in a tweet on Saturday.
"However, in the era of current dictatorial family government, headed by Abdelhamid Al-Dbaiba, things go into reverse. It instead of rewarding the army, its leaders, the security services for their great efforts in protecting the borders, securing oil and gas fields and ports, and combating drug trafficking and smuggling crimes, we find that their salaries were suspended."
He added that suspending the salaries means "cutting off half a million people, including soldiers' families, and their children from their lives."
"The army destroyed a marijuana farm in Sebha last week, so the government rewarded them by suspending their salaries," the Libyan diplomat concluded.
On Thursday, the General Command of the LNA said that Al-Dbaiba suspended the pay-checks of LNA forces, "while he and his family spent 20 billion dinars on developing corruption, instead of working to improve the lives of citizens.
Notably, the LNA forces conducted raids against drug dealers as part of its efforts to combat crime and drugs in the South of the country, in Sebha.
Major General Khaled Al-Mahjoub, Director of the Moral Guidance Department of the LNA, said that a marijuana farm was raided after it was reported by local residents.
"All the drugs were burned and all the narcotics were destroyed," Al-Mahjoub added.
Al-Mahjoub stressed that the securing operations in the city of Sebha and its suburbs "will continue until security, safety and a decent life for citizens are achieved."
This comes within a major campaign conducted by the Libyan army as part of its efforts to combat organised crime, smugglers and traffickers in the South of the country.
Last week, the Libyan army stormed the Al-Tayuri neighbourhood and arrested drug traffickers. During the raid, an Egyptian citizen who had been kidnapped by a gang was liberated.
The LNA, in cooperation with the Ministry of Interior in the eastern region, is leading a major operation against drug dealers and smugglers. The campaign also targets the locations of immigrants and drug dealers of Chadian nationality.
Libya was supposed to hold its presidential elections on the 24th of December 2021, in a United Nations (UN)-led effort to drag Libya out of its years of conflict. However, the ballot was delayed indefinitely, after bitter arguments over divisive candidates and a disputed legal framework. The parliamentary committee overseeing the elections declared holding it "impossible" on the scheduled date.