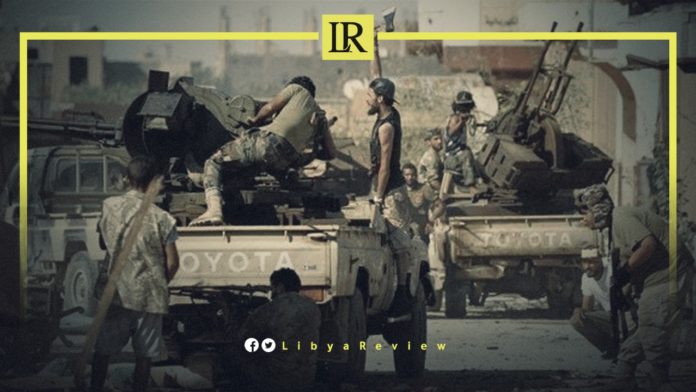 Clashes broke out in Libya's capital Tripoli between rival armed groups on Sunday amid a state of ongoing insecurity.
On January 16th, fighting took place on the Shatt Road near the port of Tripoli and the Central Bank of Libya between the Nawasi Brigade and the Special Deterrence Force.
A number of eyewitnesses said that the clashes coincided with the passage of armoured vehicles and cars in both directions.
The fighting sparked panic among the locals, while the government remained silent in the face of what observers described as a struggle between contending factions.
The fighting follows major clashes in October 2021 in the city of Zawiya, West of Tripoli, and smaller incidents or clashes inside the capital.
In the wake of Libya's 2011 NATO-backed uprising, militias built a powerful role for themselves by filling the security vacuum left by the overthrow of late longtime-leader Moammar Gaddafi. Armed groups emerged in all over Libya, but the complexity and prevalence is especially noticable in and around the capital, Tripoli.
Since then, Libya has witnessed little peace and remains divided into warring eastern and western factions.
Tripoli has sought to bring the militias under control by putting them on the government payroll and assigning them to protect government offices. However gunmen often remain loyal to their own Commanders and battle for control of local areas.
Notably, Turkey sent troops as well as thousands of mercenaries from Syria to shore up the former Government of National Accord (GNA) in Tripoli. Most of Turkey's contingents are still stationed in Libya.
Observers believe that the success of the political path set by the United Nations Support Mission in Libya (UNSMIL), remains dependent on the cessation of foreign intervention.
However, the non-compliance of foreign players, especially Turkey, is raising doubts about the success of the ceasefire agreement as well as the overall transitional process.
Last month, the country's long-awaited presidential elections were postponed indefinitely. It remains unclear if the various on-again and off-again warring groups will be capable of carrying out the elections.