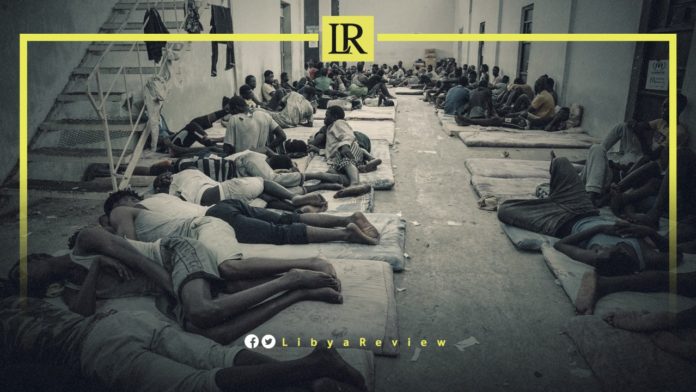 An Italian humanitarian organization "Mediterranea Saving Humans" has filed a complaint against Libya for its mistreatment of migrants at the International Criminal Court (ICC) in The Hague
According to the 'AKI' news agency, the Italian NGO stated this happened "after years of atrocities committed against women, men, and children in Libya and after tens of thousands of deaths in the central Mediterranean region."
The Italian organization stated that the complaint, "which was filed by experts and legal professionals from the Dutch (UpRights), the French (Adala for All) and the Italian (StraLi) NGO's, who, thanks to their careful work and documented evidence, have in the past judged perpetrators of massacres from Bosnia to Rwanda." It noted that the complaint "is directed against Italy and Malta as well, on charges of complicity in crimes against humanity."
Mediterranea Saving Humans pointed out "the shame of violating human rights and the lives of brothers and sisters, women and men, whose only fault is that they are poor first and, above all, in a world where an 'epidemic of inequality', as Oxfam describes it, makes a handful of billionaires own most of the fortunes, produced in a world of 7 billion people."
"Finally, we say, with evidence at hand, that these Libyan jailers, bandits, torturers, unscrupulous criminals, have accomplices! They do not do what they do on their own, and have not emerged from the dark depths of human nature," the Italian organisation noted.
The Italian organization explained that these "were, in recent years, employees of very civilized European governments, from which they received hundreds of millions of euros in funding, which were voted on by democratic and civilized parliaments."
Earlier in January, the Libyan Crimes Watch (LCW) NGO announced that three Moroccan migrants were killed in a detention center in the coastal town of Al-Maya, west of Tripoli.
In a statement, the organisation clarified that the three migrants, namely Abdulaziz Al-Harshi, Hamza Ghadada, and Mohamed Attah were held in the detention centre supervised by the Stability Support Apparatus (SSA) led by Abdel-Ghani Al-Kikli (Ghneiwa).
The LCW stated that one of the migrants was subjected to torture, resulting in his death. It added that the three bodies were transferred to the mortuary at the Al-Zahraa General Hospital.
It held the Libyan Presidential Council (PC) fully accountable for "such repeated and horrific violations against migrants, committed by the SSA." It demanded all perpetrators be brought to justice.
It also called on the Libyan Public Prosecutor to open an immediate and transparent investigation into this incident, and take urgent measures to protect migrants in detention centers.