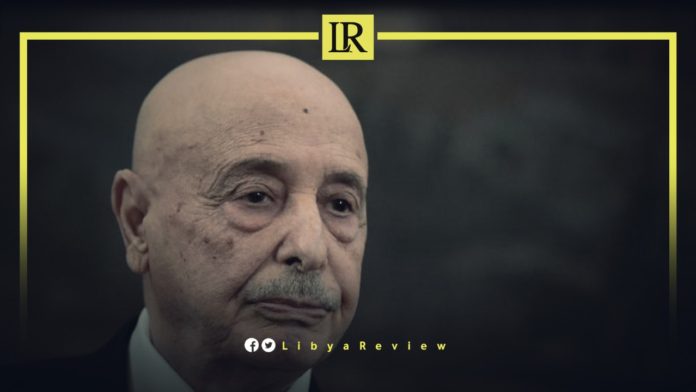 The Speaker of the Libyan Parliament, Ageela Saleh stated that the Government of National Unity (GNU), headed by Abdel-Hamid Dbaiba has expired, and cannot continue.
During a Parliamentary session on Monday, Saleh said: "We need food, medicine, and healthcare, and this is the task of the executive authority. The issue of the government is that its term has expired, and we are here today debating whether to continue or change it."
The Speaker pointed out that GNU spent 86 billion dinars, while people "did not feel that projects even amounted to 10 billion."
"If you see that Dbaiba is fit to lead the government again, he must present a new cabinet with all its members, and be granted confidence by the Parliament," he added.
Saleh pointed out that Libya is going through a dangerous and pivotal stage, while needing to remedy its issues, and assume responsibility.
Notably, an MP from the city of Misrata, Suleiman Al-Faqih announced that the Roadmap Committee will present a mechanism to select a new Prime Minister on Tuesday.
He claimed that holding elections, "requires the availability of a strong government to create the appropriate atmosphere, and the current government is surrounded by many suspicions."
On Sunday, the Special Adviser to the UN Secretary-General on Libya (SASG), Stephanie Williams renewed her call for elections to be held within the timeframe set by the Libyan Political Dialogue Forum's (LPDF) roadmap.
During her meeting with a number of members of the High Council of State (HCS), Williams stressed that any solution must take into account the demand of the 2.5 million registered Libyan voters. The HCS members highlighted the importance of holding the elections on a constitutional basis, after a lengthy discussion on the current challenges facing the electoral process.