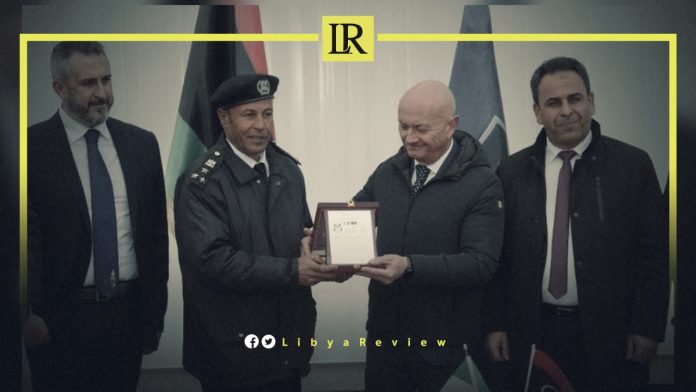 On Wednesday, the Libyan Interior Ministry issued a statement, that it had received equipment for coastal security, provided by the Italian government. This is part of the joint cooperation agreement between the two countries.
The statement indicated that Libya received a mobile maintenance workshop, and spare parts for boats and marine parts. In addition to mobile administrative offices for the port of Tripoli.
The handing over ceremony was attended by the Director of the General Department of Coastal Security, the Director of the Relations and Cooperation Department, the Security Delegate of the Italian Embassy in Libya, and a number of officials from the Coastal Security Department and the Italian Embassy.
Notably, Italy and Europe are facing sharp criticism for their support of the Libyan Coast Guard, given its repeated violations against migrants.
A recent confidential EU military report revealed calls for continuing a controversial program to train and equip Libya's Coast Guard and Navy.
The report offers a rare look at Europe's determination to support the interception and return of tens of thousands of migrants to Libya, where they continue to face insufferable abuse, according to the Associated Press.
Compiled by Italian navy Rear Adm. Stefano Turchetto, the Head of the EU arms embargo surveillance mission (Operation IRINI) the report acknowledges the "excessive use of force" by Libyan authorities, adding that EU training is "no longer fully followed."
It added that, "the political stalemate" in Libya has hindered Europe's training program. As well as noting that the country's internal divisions make it difficult to obtain political support to enforce "proper behavioural standards … compliant with human rights, especially when dealing with irregular migrants."
Last week, UN Secretary-General, Antonio Guterres called for countries to "re-examine policies that support interception at sea and return of refugees and migrants to Libya."
In July 2021, the Italian Parliament approved the government's request to refinance the Libyan Coast Guard for the fifth consecutive year. This comes despite reports of torture, death, and more generally the systematic violation of the most basic rights of migrants in Libya.
Since 2017, Rome and Brussels have spent about €1.1 billion euros to finance the Libyan Coast Guard and the other authorities in the North African country.