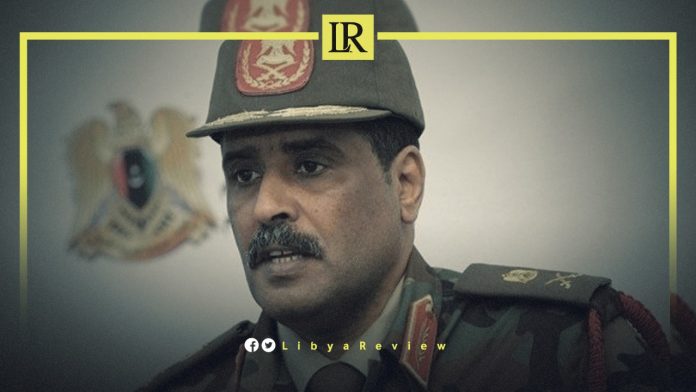 The Libyan National Army (LNA)'s official Spokesperson, Major General Ahmed Al-Mismari, announced that 24 Islamic State (IS) militants were killed during three-day long clashes against LNA forces near the town of Al-Qatroun in Southwest Libya.
Speaking during a press conference on Friday, Al-Mismari confirmed that an IS militant was arrested and four LNA soldiers were reported missing during the battles.
He said the army directed its units to "hunt down" the IS militants who escaped the clashes.
The Spokesman added that the army started off a large-scale operation in the southern outskirts of Qatroun, which is located some 200 kilometers from the border with Niger and Chad. It did so after detecting movements by IS cells around Mount 'Asida'.
Several units of the LNA, including the Tariq bin Ziyad Brigade, the 73rd Infantry Brigade, and the 128th Military Battalion, took part in the operation. Libyan Air Force warplanes provided close air support for LNA troops advancing on the ground.
Notably, LNA forces conduct combing operations in the country's southern region periodically in order keep IS at bay. Despite this, the terrorist group's cells manage to launch attacks from time to time.
In a statement on Thursday, the Interior Ministry said that the militants killed three Libyan security personnel near the Jabal Asida area, west of Al-Qatrun. The attack targeted a patrol of the Umm Al-Aranib Martyrs' Brigade, killing three of its members.
It added that government forces had killed four militants, and destroyed their vehicle. A search is underway for other "terrorists" who had fled. The Ministry said that the IS-affiliated groups that have appeared in the Southwest of the country are seeking to destabilise the security situation.
On Monday, IS forces claimed an attack on the same brigade, in the same area a week earlier, killing two members.
The Umm Al-Aranib Martyrs' Brigade is largely made up of members of the long-marginalized Tebu ethnic group.
A political crisis in the wake of Moammer Gaddafi's overthrow saw the oil-rich country split between rival authorities in the East and West, and the disintegration of security apparatuses. This created fertile ground for jihadist groups like IS to take root.
A myriad of armed groups and human traffickers have taken advantage of the chaos to gain a foothold in the North African country.
The LNA Spokesperson strongly criticised the Libyan Prime Minister of the Government of National Unity (GNU), Abdelhamid Al-Dbaiba, and his Interior Minister, Khaled Mazen. He argued that they deliberately overlooked the efforts of the LNA forces in fighting IS militants over the last three days in the Southwest of the country.
Al-Mismari warned that this would negatively affect the work of the 5 + 5 Joint Military Commission (JMC), and the bilateral talks between LNA Chief of General Staff, Abdel Razek Al-Nadori, and his counterpart of Libya's Western-based Army, Major General Mohamed Al-Haddad, to unify the military institution.