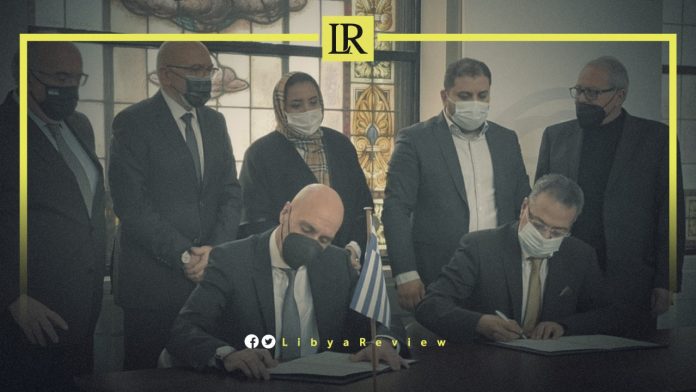 The Chamber of Commerce, Industry, and Agriculture of Libya has concluded a memorandum of understanding (MoU) with the Chamber of Commerce and Industry of Athens to enhance bilateral economic cooperation.
According to a press statement by the Libyan Ministry of Economy, the MoU aims to facilitate procedures for businessmen and business owners, and raises the level of trade exchange.
A meeting was held on the sidelines of the agreement, and was attended by the Chairman and members of the Management Committee and the Director-General of Tripoli's Chamber of Commerce. As well as the undersecretaries of the Libyan ministries of Finance and Youth, members of the Athens Chamber of Commerce, and the undersecretaries of the Greek ministries of Foreign Affairs and Transport.
The statement added that the meeting discussed ways to activate the movement of air and sea transport. As well as aspects of cooperation, and the exchange of experiences in the fields of energy, construction, infrastructure development, food, and medical industries.
Notably, the Libyan Embassy in Washington D.C confirmed that it is organising the return of a marble funerary statue to Libya, after it was looted several years ago.
In press statements, the Embassy indicated that the Antiquities Anti-Trafficking Office in New York informed them that the federal investigations into the looted statue have ended. It explained that the statue is that of Greek goddess, Persephone and was stolen from the eastern Libyan city of Shahat. There was an attempt to sell the statue, at auction, during an exhibition in New York City.
The Libyan Embassy pointed out that the investigations lasted nearly three years, and led to extensive cooperation with the US State Department to secure the return of the statue back to Libya. The Chargé d'Affairs, Khaled Daief will travel to New York to attend a ceremony on 12 January, to receive the looted statue, before transferring it to Libya.