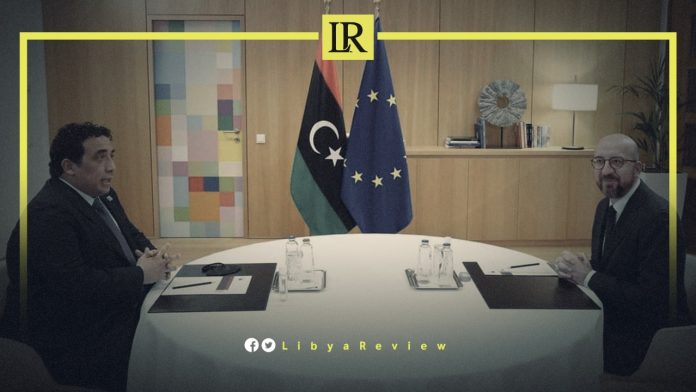 Head of Libya's Presidential Council, Mohamed Al-Mnifi called on the European Union to cooperate with Libya on the migration crisis. He said that it was "draining Libya's security and economic resources more than Europe," and added that Libya "will not act as a border guard for Europe."
This came during Al-Mnifi's meeting with the President of the European Council, Charles Michel on the sidelines of the Sixth African-European Summit.
Al-Mnifi stressed the need for joint action, to secure the maritime borders with the European Union. He affirmed the need to consider the conditions of migrants, and to ensure respect for international human rights laws.
The two parties discussed the results of the African-European Summit, and Libyan-European relations. They also discussed the prospects for joint Libyan-European cooperation, and what the EU can offer to support the achievement of security and stability in Libya.
Al-Mnifi and Michel reviewed ways to resolve the Libyan crisis, and a number of issues of common concern at the political, security, and economic levels.
Last May, Libyan Foreign Minister Najla Al-Mangoush said that Libyans "will not act as borders guards for Europe," adding that, "Libya will not be a transit point for suffering and persecution against our African brothers."
She said in December that Libya needs to secure its southern borders to stop the migration flow into the country. "The problem of migrants is very complex, and I tell other countries not to transfer the problem to Libya, and not to point the finger at us as a country that violates human rights," she said at a virtual meeting for the Mediterranean Dialogues Forum held in Rome.
She added that Libya "is tired of talking about superficial solutions only," stressing that "there are also victims among immigrants in the English Channel. If two of the most stable countries in the world, like France and UK, cannot control illegal immigration, how is Libya expected to control it?"
"Libya is not a final destination for migrants, we are a transit country, and sometimes migrants come from countries that are more peaceful than ours," she explained. "There was talk about the amount of money that should be given to Libya to stop irregular migration, but this did not help in the past, and will not help in the future," she confirmed.
The FM stressed that Libya needs to stop the migrants at the southern borders, but the country lacks the ability to manage the thousands of kilometers of desert.