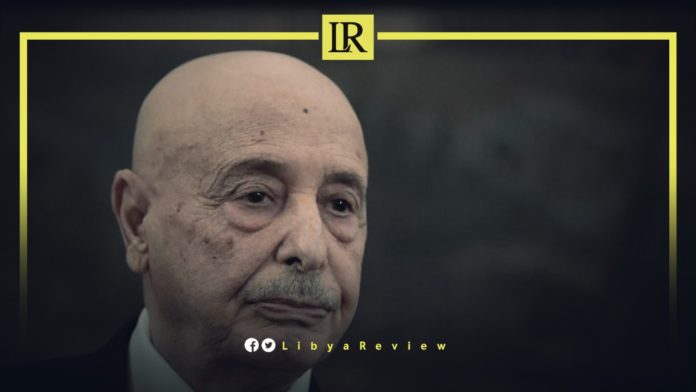 On Saturday, the Speaker of the Libyan House of Representatives (HoR), Ageela Saleh, stressed the need to reach a comprehensive political settlement in Libya.
In press statements, Saleh reiterated his call for the need to expel all armed groups and mercenaries from Libya, confirming that national reconciliation is the basis for "building bridges of trust among all Libyans."
During his speech on the 11th anniversary of the February 17th revolution on Thursday, Parliament's Speaker also stated that people must "turn the pages of the past, renounce hate speech, and support the 'stability government' in rebuilding the country."
He praised the recent direct intra-Libyan dialogue, which resulted in a new political roadmap, as well as discussions on a timetable for the Presidential and Parliamentary elections.
The Speaker also discussed the formation of a committee of experts to amend the draft constitution. "This committee will produce a consensual constitution, after the 'stability government' is given confidence. The government will begin creating a safe security and economic environment, and remove the force majeure that has impeded the holding of the elections on time," he said.
On Friday, the outgoing Prime Minister of the Government of National Unity (GNU), Abdelhamid Al-Dbaiba, said that a roadmap for conducting Libya's stalled elections in June will be announced within two days.
He reiterated his rejection of transitional periods, stressing that the polls are the only option for Libyans.
Earlier this month, Saleh announced that they had unanimously appointed Fathi Bashagha as the new Prime Minister.
"The Parliament voted unanimously to give confidence to Bashagha as the Head of a new government," Parliamentary Spokesman, Abdullah Blaiheg, said after the session in Tobruk.
The renewed political chaos, after a failed election scheduled for end-December 2021, threatens to bring back chaos to Libya's divided institutions and raises the prospect of renewed conflict and blockades of oil ports and other energy infrastructure.
Libya has been mired in a political crisis since the fall of long-time leader Moammar Gaddafi's regime in 2011, with rivalries between the main regions, power struggles, and foreign interference.