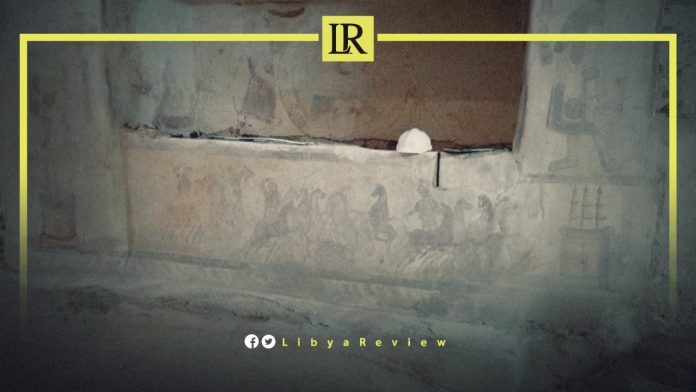 The Italy Embassy in Tripoli announced the start of the restoration of the Roman tomb of Mithra, located in the capital, Tripoli.
In a statement, the Italy Embassy indicated that the restoration process was funded by the Italian Ministry of Foreign Affairs and International Cooperation.
The Embassy said, "the Roman Sepulcher of Mithras, will be on display once again its original beauty thanks to joint work of the Italian archaeological team Fondazione MedA with the Libyan Department of Antiquities."
It added, that "the restoration financed by the Italian Ministry of Foreign Affairs aims at preserving part of frescoes used to decorate the crypt."
Archaeologists consider the tomb of Mithra to be highly unique. Scholars believe that the tomb, which is full of artworks with ancient connotations, refers to one of the secret pagan religions, or the Christian religion.
They consider this is an important find, while some argue that the artistic and ideological overlap in the cemetery's construction period was not surprising, as emerging Christianity was widespread.
The Mithra Tomb was discovered between 1919–1920 in Tripoli. Mithra refers to Mithraism, the mystery religion practiced in the Roman Empire from about the 1st to the 4th century.
Earlier in November, Colonel Adel Al-Tofa, the Head of the Tourism Police and Antiquities Protection Authority in Tripoli, stated that they discovered an archaeological family cemetery dating back to the second century AD, about 2000 years ago.
He added that the Tourist Police were present at the archaeological site in the Libyan capital, accompanied by forces from Tripoli Security Directorate in Dahra neighbourhood. This occurred shortly after receiving a report from a local resident regarding the discovery of the ancient tomb during drilling operations at a construction site near the Al-Dahra Club.
Al-Tofa explained that archaeological survey work is underway by the team assigned by the Antiquities Department. Al-Tofa denied the news circulated on some social media pages that they had found gold coins. He stressed that they discovered only funeral monuments inside the cemetery.