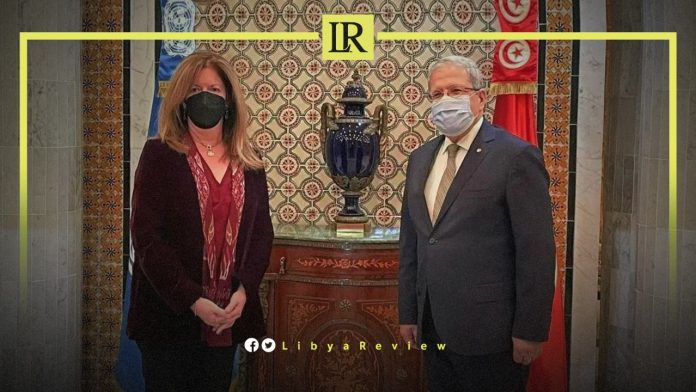 On Wednesday, Tunisian Foreign Minister, Othman Jerandi met with the UN Special Adviser to Libya (SASG) Stephanie Williams in Tunis. They discussed the latest political developments in Libya, and stressed the importance of supporting Libya's security and stability.
The two sides also reviewed efforts made by the UN mission (UNSMIL) to resume the political track, in coordination and consultation with the various Libyan authorities.
Jerandi reiterated his support for Libya, as well as the Tunisian Presidency's support for Libyan-led dialogue, "which puts Libya's interest above all considerations."
The Tunisian FM also affirmed the important role of neighbouring countries, the African Union, and the United Nations, in order to secure a lasting solution in Libya.
In turn, Williams praised Tunisia's role in reaching compromises between the various Libyan parties. She also appreciated the efforts of the Tunisian Presidency, its support for UNSMIL, and its support for efforts to support stability in Libya.
Last week, Tunisian President Kais Saied met with the Head of Libya's Presidential Council (PC), Mohamed Al-Mnifi, on the sidelines of the AU-EU summit in Brussels.
Saied commended the efforts of the PC to achieve stability in the country "through the National Reconciliation Project, which opens the road to fair elections that satisfy all parties".
The two also agreed to increase bilateral trade cooperation and border security, the Presidential Council stated.
In January, the Tunisian Foreign Ministry confirmed that the Libyan crisis was at the forefront of its priorities and diplomatic moves. As well as noting that this was in close coordination with other countries, and with regional and international partners.
In its concluding statement of its non-permanent membership in the Security Council (2020/2021), the Tunisian Foreign Ministry reiterated that "it had spared no efforts to defend Arab and African issues at the Security Council, especially with regards to Libya."
The Tunisian ministry also stressed the need to "adhere to international legitimacy, respect the sovereignty of states, non-interference in internal affairs, and support the right issues."