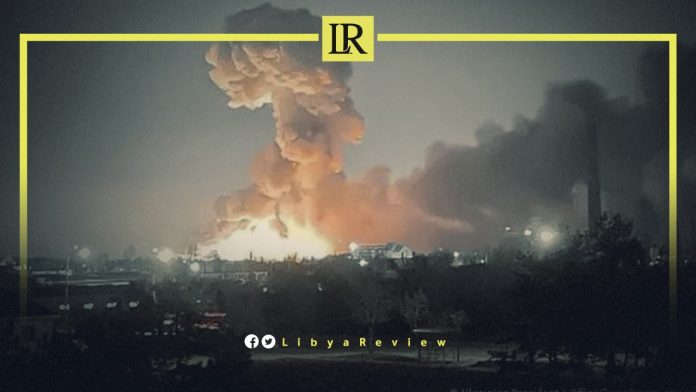 The Deputy Head of the Libyan community in the Ukrainian capital, Kyiv, Abdul Ghani Humaidan, said that the evacuation of individuals and families from the Libyan community in Ukraine is continuing, with many Libyans still residing in the country.
In press statements, Humaidan was surprised by the instructions of the Ambassador to Ukraine to go directly to the Embassy in light of the presence of a curfew that began on Saturday and ends tomorrow evening.
Humaidan added that there are two families in need of help, one of whom does not have gasoline, and the other has not been able to leave, as the bombing continues intensively. He noted that the Libyan community members are continuing their efforts to secure the exit of all Libyans.
Humaidan stated, "work is continuing to get the families out through Odessa. Those who arrived at the Embassy headquarters left via buses from the Czech Embassy."
The Deputy Head of the community in the Ukrainian capital, Kiev, added that they had contact with 250 people in a WhatsApp group from the Libyan community, some of whom are with their families in Ukraine and have not left yet.
On Saturday, the Charge d'Affairs of the Libyan Embassy to Ukraine, Adel Bin Issa, announced that they had already started the evacuation process of some Libyan families and students. It concerns families and students who are stranded in the Ukrainian eastern areas, next to the border crossing of Slovakia.
In press statements, the Ambassador said that a total of 40 Libyan citizens stuck in the city of Dnipro in eastern Ukraine, close to the Russian border, were successfully transferred to a safe area in Kiev.
He pointed out that the Embassy provided accommodation to all stranded people in Kiev, ahead of evacuating them via the border crossing of Slovakia.
Bin Issa also denied the news circulated online that a Libyan student had died during the ongoing military operations between Russia and Ukraine.
Last week, the Libyan Foreign Ministry called on Libyans in Ukraine wishing to return to their homeland, to expedite and communicate with members of the deportation committee formed by the Libyan Embassy in Slovakia.
The Embassy called on its citizens residing in Ukraine to communicate with it on the emergency numbers provided, or through its official website for more instructions and advice.