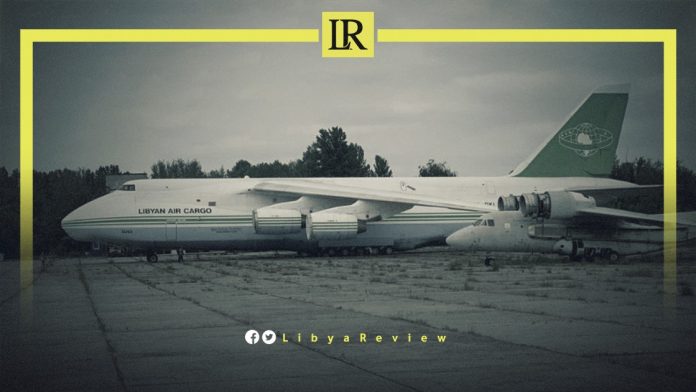 The 'Africa Intelligence' website, which specialises in political and economic developments in Africa reported that the last Antonov An-124 held by the Libyan state is in danger of being destroyed in the battle for control of Kyiv. The aircraft was reportedly sent to Ukraine for maintenance 10 years ago.
The French website indicated that the Russian invasion of Ukraine threatens to deprive Libya of the last of the two large Antonov An-124 planes purchased in 2001. It added that while one of the two planes was destroyed during the fighting at Tripoli International Airport in 2019, the second remains in Ukraine (Kyiv), where it was sent for maintenance in the same year.
It said that the Libyan plane is still intact, at the Sviatoshyn Airfield, northwest of the Ukrainian capital. The report noted that the aircraft is vulnerable to targeting by Russia, especially after the Hostomel Airport was attacked by the Russian airborne forces on 24 February.
The website noted that a delay in the payments to the Ukrainian aircraft manufacturer had initiated a legal sale procedure. The Libyan authorities announced their intention to settle the dispute in April 2021, and return the aircraft to Libya before the end of the year.
The report confirmed that the destruction of the Libyan plane would be a great loss for Libya, which is one of only a few countries that own the cargo aircraft, including the UAE. It explained that these planes have a large capacity, and are able to transport oil and industrial equipment, and are also able to be used by militaries.