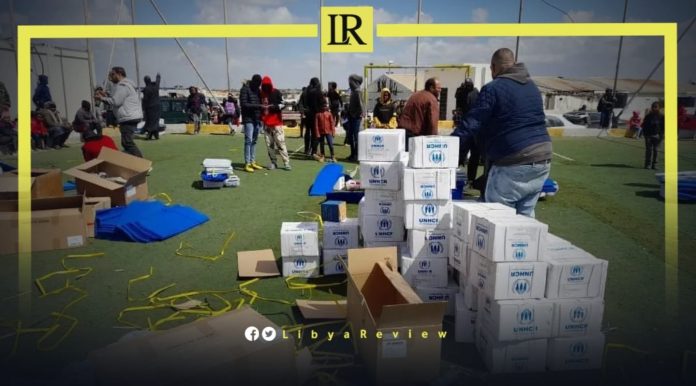 On Thursday, the United Nations High Commissioner for Refugees (UNHCR) distributed winter supplies to more than 1,300 families residing in the Al-Halis camp in Benghazi for those displaced from the city of Tawergha.
In a statement, UNHCR explained that the aid was distributed in partnership with the Libyan Humanitarian Aid and Relief Authority. It included blankets, mattresses, kitchen sets, plastic sheeting, solar lamps, winter clothes, shoes, and diapers.
UNHCR confirmed they reached nearly 1,000 families, comprising of 4,422 people, living in eight camps in Benghazi and its suburbs. They were provided with relief items, and winter clothes to cope with the low temperatures.
Earlier in March, UNHCR announced that it was evacuating 99 vulnerable refugees and asylum seekers from Libya to Italy, in the first evacuation flight of 2022. The evacuation was carried out in cooperation with the Italian Interior and Foreign Ministries, and the National Institute for Health, Migration, and Poverty (NIHMP).
In a statement, the Italian Foreign Ministry and UNHCR confirmed the continuation of their efforts to help vulnerable refugees leave Libya, in light of the continuing crisis in the country.
The joint statement explained that the evacuees came to Libya from Eritrea, Ethiopia, Somalia, Sudan, Syria and Yemen. It stressed that they urgently need assistance.
In February, UNHCR in Libya announced that since 2017 it had resettled 2,438 refugees. It added that, "this would not have been possible without the support received from the Regional Development and Protection Programme for North Africa (RDPP-NA)."
In December, nearly 300 refugees drowned in several boat accidents in the Mediterranean, off the Libyan coast.
According to the International Organisation for Migration (IOM), dozens of refugees and migrants also perished in the Aegean sea. The IOM added that at least 1,887 people drowned during 2021, as they sought to reach Europe.