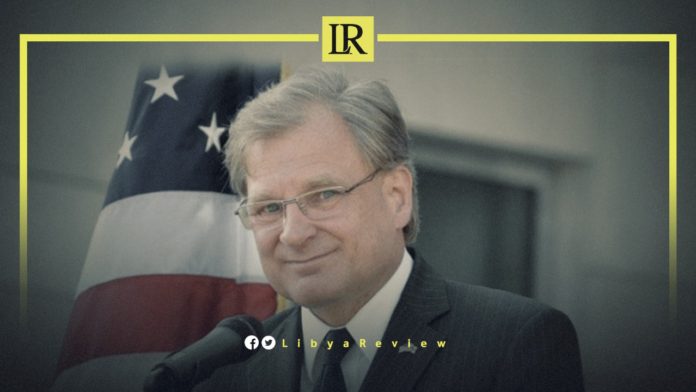 The US Ambassador to Libya, Richard Norland stated that he does not have specific information about Russia's transfer of its mercenaries in Libya and the Middle East, in order to participate in the war on Ukraine.
Norland said that Russia over the few years has played an unfortunate role in Libya. "Russian Wagner mercenaries have contributed to destabilizing not only Libya, but other countries such as Central Africa," he explained.
Responding to the Turkish military presence inside Libya, Norland said that Washington supports the withdrawal of all foreign forces and mercenaries from Libyan territories, "and this is what the Libyans want."
The statements came during an interview with Al-Hadath TV, on the sidelines of his visit to Cairo, on Monday.
"For us, having normal security cooperation with Libya that is important through having a unified government to invite us to engage with, and as of this moment that does not exist," Norland said. "But once a unified government is formed and if they are interested in this kind of partnership we are ready to look into this," he added.
The Ambassador noted that Cairo is an important partner and "the opinions of Egyptian officials indicate extensive knowledge of the events in Libya."
There were reports that Russia is employing fighters from the Middle East, Syria, and Libya, in particular, to fight against the Ukrainians.
The Mayor of the Tajoura municipality, Hussein Bin Attia told Sky News Arabia that there are "suspicious activities" taking place and facilities are being provided to attract Libyan youth to go to Ukraine to fight against Russia.
Notably, Norland arrived in Cairo on Monday to hold talks with senior Egyptian officials about solutions to the ongoing Libyan crisis.
According to the US Embassy, Norland will discuss with Egyptian officials, "how as partners, Egypt and the United States can work with all parties to support Libyans' expectation of Presidential and Parliamentary elections as soon as possible."
Earlier, Norland announced the upcoming negotiations between Libya's two rival Prime Ministers.
The US Embassy said in a statement that he had met with the Libyan Parliament-Designated, Fathi Bashagha in Tunisia on 12 March.