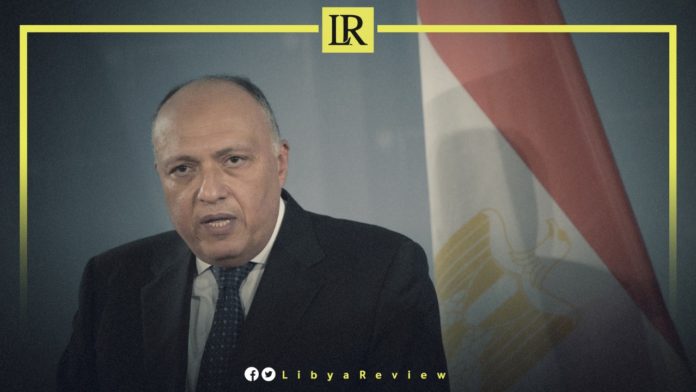 Egyptian Foreign Minister, Sameh Shoukry stated that Cairo is pushing for a peaceful transfer of power in Libya. He reiterated his support for the decision of the Libyan Parliament to appoint, Fathi Bashagha as the new Prime Minister.
During a joint press conference with his Qatari counterpart, Mohamed bin Abdulrahman, Shoukry stressed the necessity of ending all foreign interference in Libya, and adhering to a timetable for the transitional phase. Meanwhile, Qatar affirmed that it wanted to avoid divisions, that would lead to military action in Libya.
Shoukry told journalists that Egypt is in communication with all Libyan parties, and wants to resolve issues "through dialogue, not through military conflict."
Earlier this month, Shoukry praised the Libyan Parliament's appointment of a new government led by, Fathi Bashagha. It confirmed that the Parliament remains the only elected legislative body, entrusted with granting legitimacy to the executive authority.
During his speech at the 157th session of the Arab League Council, Shoukry affirmed Cairo's efforts in achieving peace and stability in Libya.
The Egyptian FM expressed his support for the efforts of the 5+5 Joint Military Commission (JMC) to withdraw foreign fighters, and mercenaries from Libya, without exception.
He stressed the need for all parties to commit to halting military action, in order to preserve the nation's security and stability.
On 10 February, the Speaker of the Libyan Parliament, Ageela Saleh announced the unanimous appointment of Bashagha as the new Prime Minister. He is set to replace the current PM of the Government of National Unity (GNU), Abdel-Hamid Dbaiba. But Dbaiba warned that the appointment of a new interim government could lead to war and chaos in the country. He renewed his pledge to only hand power over to an elected government.
In a statement, the Spokesman of the Egyptian Foreign Ministry, Ahmed Hafez said that Egypt has "confidence in the ability of the new Libyan government to expel all mercenaries and foreign forces out of the country, preserve Libya's unity and sovereignty, and pave the way for holding elections."
Hafez affirmed that Egypt is closely following the developments in Libya, and stressed that the "settlement of the Libyan crisis remains in the hands of the Libyan people alone, without any foreign interference."