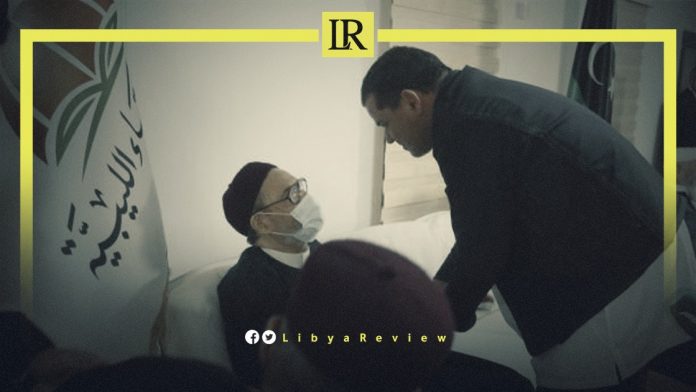 The outgoing Prime Minister of Libya's Government of National Unity (GNU), Abdelhamid Al-Dbaiba, met with the Mufti Al-Sadeq Al-Gharyani, on the sidelines of the beginning of the celebrations of Ramadan.
The meeting sparked controversy in Libya, as the religious leader attacked the institutions of the Libyan state. Observers said that Al-Dbaiba was seeking the support of Al-Gharyani due to his control and influence over the militias in the country.
Al-Gharyani called on the Central Bank of Libya (CBL) and the Libyan National Oil Corporation to "give money" to Al-Dbaiba. The religious leader also said that not providing money to Al-Dbaiba is "forbidden."
Observers fear that Al-Dbaiba, a billionaire businessman, will ally with the Mufti of armed groups in Libya, and use militias to support him and keep his government in power despite the expiration of his mandate.
On the other side Fathi Bashagha, warned of the collapse of the ceasefire agreement if the outgoing GNU continues to refuse to hand over power to his government.
"The outgoing government's continued usurpation of power and the threat of violence threatens to unravel the ceasefire agreement, and undermine national and international efforts to hold elections," the Libyan Prime Minister-designate Bashagha said last month.
On the 10th of February, the Speaker of the Libyan Parliament, Ageela Saleh, announced that they unanimously appointed Bashagha as the new Prime Minister.
Al-Dbaiba warned that the appointment of a new interim government could lead to war and chaos in the country. He renewed his pledge to only hand power over to an elected government.
Bashagha accused Al-Dbaiba's outgoing government of supporting terrorism and the armed militias. He argued that some armed militias were standing next to the outgoing government, but today they retreated.
Bashagha has continuously stated that his government has the ability to enter the capital Tripoli, "but he prefers to enter it in a peacefully and without bloodshed."
"The outgoing government is trying to drag us into a conflict that will lead to casualties," he said. He concluded that his administration has formed groups that contact armed militias and politicians in order to resolve the crisis.