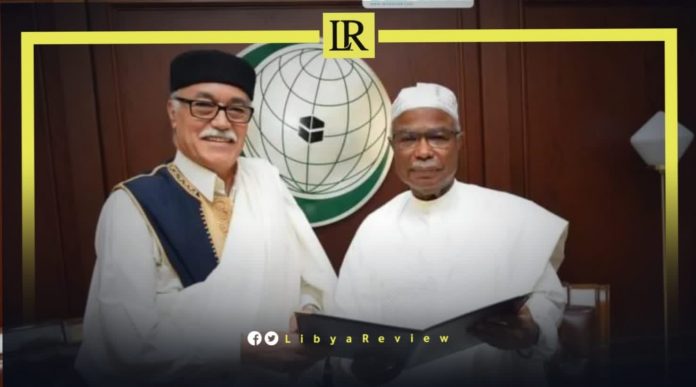 On Thursday, the Secretary-General of the Organization of Islamic Cooperation (OIC), Hussein Ibrahim Taha met with Libya's Permanent Representative, Kamal Bashir Dahan.
Taha affirmed the organisation's "permanent principled position in support of Libya, the unity of its people, and the integrity of its territory."
He reiterated his support for all initiatives that would contribute to resolving the crisis politically, in a way that ensures the return of security and stability in Libya. He praised ongoing efforts working to preserve Libya's sovereignty and territorial integrity, and achieve the aspirations of the Libyan people.
The Secretary-General also renewed the OIC's support for the efforts of the United Nations aimed at achieving comprehensive national reconciliation, and reaching a political solution. He called on all Libyan parties to "make every effort and adhere to dialogue to overcome the difficulties of the current stage."
Last month, Egyptian Foreign Minister, Sameh Shoukry stressed the importance of finding a peaceful solution in Libya.
In front of the 48th session of the Council of Foreign Ministers (CFM) of the OIC, Shoukry emphasised the need to hold Presidential and Parliamentary elections, while ensuring the withdrawal of all foreign forces and mercenaries. He also renewed Egypt's support for the efforts of the 5+5 Joint Military Commission (JMC), in settling the current crisis in the country.
The OIC, which was established in 1969 following the criminal arson of Al-Aqsa Mosque in occupied Jerusalem, is the second-largest international organisation after the United Nations. It has 57 members, spread over four continents.
The Organisation is the collective voice of the Muslim world. It endeavours to safeguard and protect the interests of Muslims, in the spirit of promoting international peace and harmony among various peoples of the world.