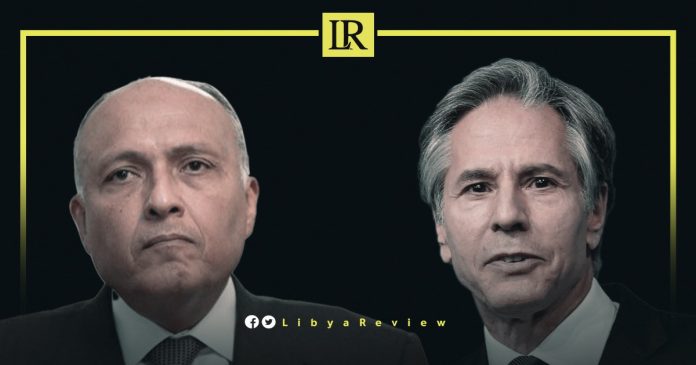 The Egyptian Foreign Minister, Sameh Shoukry, will discuss the developments in Libya with his US counterpart, Anthony Blinken, during his upcoming visit to Washington next Wednesday.
According to Egypt's Al-Ahram News, Shoukry and Blinken will announce their support for the political settlement taking place in Libya under the leadership of the United Nations (UN).
They will also show their support for all international efforts that support holding Libyan elections and stabilising state institutions, according to the Egyptian Al-Ahram Gate website.
A few days ago, Blinken announced a ten-year strategy to prevent conflicts and enhance stability, targeting Libya, Haiti, Mozambique, Papua New Guinea and the West African coast.
"Together with our partners, we will implement the 10-year strategy to prevent conflict and promote stability," Blinken tweeted.
The US Ambassador to Libya said the ten-year strategy to promote stability in Libya shows a sustained US commitment that goes beyond the short term.
"We are working toward Libyan reconciliation and re-unification, under an elected government accountable to Libyans," Norland said according to the US Embassy in Libya.
On the other hand, Libyan Prime Minister-designate Fathi Bashagha welcomed Blinken's announcement. He said his country will be a partner for peace, prosperity and self determination to our friends and neighbours.
"The people of Libya welcome the opportunity to work with US State Department and Secretary Blinken to promote stability her and throughout our region," Bashagha tweeted.
"Libya will be a partner for peace, prosperity and self determination to our friends and neighbours," he added.
On the other hand, the first meeting of the joint committee, including representatives of the Libyan House of Representatives (HoR) in Tobruk and the High Council of State (HCS) in Tripoli, is expected to be held next Monday in Egypt. It will either occur in Cairo or Hurgada, according to Italian NOVA News Agency's reports on Saturday.
The meeting aims to find an agreement on elections in Libya. It also will be co-chaired by Stephanie Williams, Special Adviser to the UN Secretary-General in Libya.