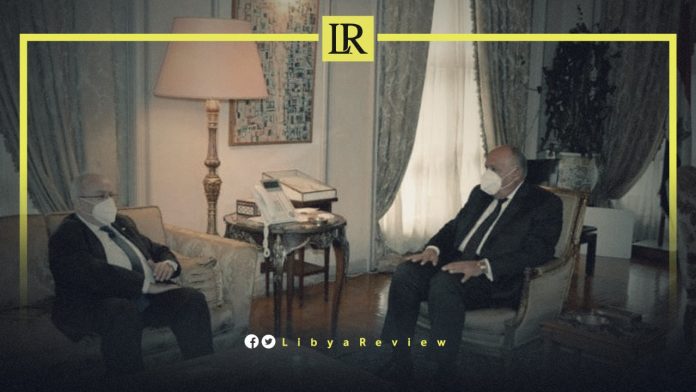 On Sunday, Egypt Foreign Minister, Sameh Shoukry, and his Algerian counterpart, Ramtane Lamamra, discussed the latest developments in the Libyan crisis at the Ministry's headquarters in Cairo.
The official talks touched upon several regional issues of mutual concern, including the Libyan file, Egypt's Foreign Ministry Spokesman, Ahmed Hafez, stated.
Shoukry stressed the importance of supporting a Libyan-Libyan solution to get out of the current crisis, underlining the need to stop any foreign interference in Libya's domestic affairs.
The Egyptian Foreign Minister reiterated the importance of the withdrawal of foreign forces including mercenaries from Libya, to achieve the aspirations of the Libyan people for security, stability, and prosperity.
The meeting discussed ways to boost bilateral cooperation between the two countries, as well as the latest regional and international issues of common interest, Hafez tweeted.
Both sides praised the "distinguished" bilateral ties between Egypt and Algeria, underlining the need to continue cooperation and coordination efforts in various fields. They also highlighted the ambition to continue strengthening aspects of economic and investment relations between both sides during the coming period.
Hafez pointed out that they also further discussed the latest developments in Sudan, Mali, and the Sahel and Sahara region.
Concerning peacekeeping issues, the two Ministers stressed the need to intensify coordination efforts within the framework of joint African action. They said this should occur in a way that enhances efforts to achieve peace, security, and prosperity, especially in light of the various security challenges imposed by the successive developments in the region.
Libya has been engulfed in conflict since a NATO-backed uprising toppled and killed longtime leader Moammar Gaddafi in 2011. The country has emerged as the dominant transit point for migrants fleeing war and poverty in Africa and the Middle East, hoping for a better life in Europe.
Traffickers have exploited the chaos, and often pack desperate families into ill-equipped rubber or wooden boats that founder along the perilous central Mediterranean route. Thousands have drowned along the way, and thousands have been intercepted and returned to Libya.