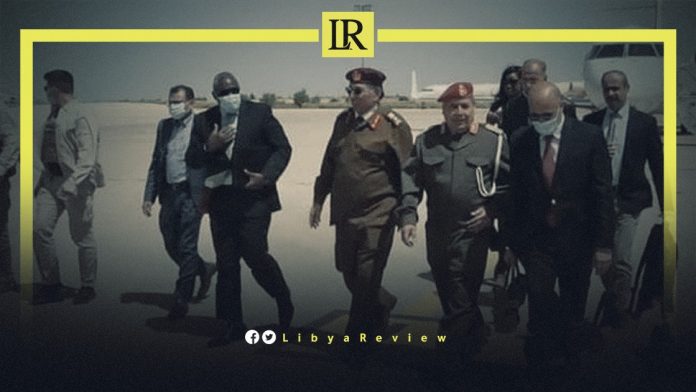 The Assistant Secretary-General and Mission Coordinator of the United Nations Support Mission in Libya (UNSMIL), Raisedon Zenenga held talks with Libyan National Army (LNA) representatives of the 5+5 Joint Military Commission (JMC) in Benghazi. This was to discuss the reasons behind the measures announced in their 9 April statement.
On Saturday, the eastern members of the commission accused the government in Tripoli of failing to comply with the decisions of the Libyan Parliament. This included refusing to hand over power to the new Government of National Stability, and the looting of public money.
They shared their concerns over the current situation, and its impact on livelihoods in the east. As well as, "raising pressing and longstanding issues that are now placing the work of the JMC, and the progress made on the security track at risk."
The representatives also highlighted the importance of the Government of National Unity's (GNU) obligations to the east of the country. As it plays a critical role in securing oil production, and contributing to the security and stability of Libya.
In turn, Zenenga commended the JMC for its important achievements. He reaffirmed the UN's commitment to continue efforts to find a lasting solution to the unresolved issues.
He also stressed the importance of avoiding escalation, resolving differences through dialogue, and safeguarding the important work and achievements of the commission.
Zenenga called for continued cooperation with the UN, including the provision of essential support to enable the work of the UN's Ceasefire Monitoring Component in Sirte.
Libya has remained beset by turmoil since 2011, when long-time ruler Muammar Gaddafi was ousted and killed in a bloody NATO-backed uprising.
Presidential elections were due to be held on 24 December 2021. These were postponed indefinitely over technical and legal issues, according to the High National Elections Commission (HNEC).
The country is currently facing a political crisis after the Libyan Parliament swore in a new Prime Minister, Fathi Bashagha to lead a new interim government in February. MP's argued that GNU Prime Minister, Abdel-Hamid Dbaiba's mandate expired when the elections failed to take place.