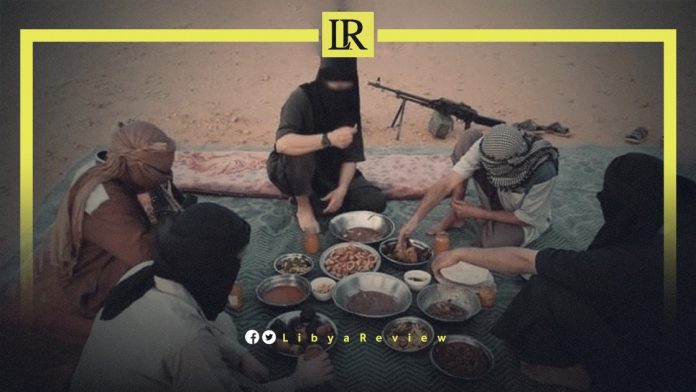 On Wednesday, the Islamic State (ISIS) terrorist group published new pictures of its affiliates currently deployed in southern Libya.
The pictures showed ISIS militants in the Libyan desert preparing food and performing prayers during the holy month of Ramadan. All of them deliberately concealed their faces, and various types of weapons were shown in the pictures.
On Tuesday, IS-affiliated militants attempted to infiltrate the Ghadwa area of Sebha. Libyan National Army (LNA) forces repelled the attack, and killed a number of terrorists.
The military operation lasted for an hour, the LNA said on its Twitter account. It pointed out that such operations would "continue until the presence of terrorist organizations and organized crime in the south is eliminated."
Notably, the government of Prime Minister-designate, Fathi called for "serious steps to support and build security and military institutions, so that the Libyan government can extend its full control and sovereignty over its entire territory".
Bashagha has recently accused the Prime Minister of the outgoing Government of National Unity (GNU), Abdel-Hamid Dbaiba of supporting terrorism and armed militias.
"The outgoing Dbaiba government wants to cling to power and loot Libyan funds," adding that "it had spent the money on terrorist and armed groups."
On 10 February, the Speaker of the Libyan Parliament, Ageela Saleh announced that they had unanimously appointed Bashagha as the new Prime Minister.
However, Dbaiba warned that the appointment of a new interim government could lead to war and chaos in the country. He renewed his pledge to only hand power over to an elected government.