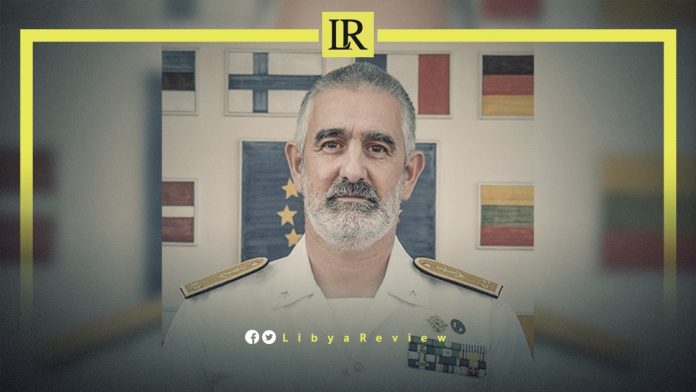 Commander of the EU's military operation in the Mediterranean (IRINI), Admiral Stefano Turchetto said that the operation's activities "are part of the integrated European approach involving political, military, economic, and humanitarian lines of effort to stabilize Libya."
The remarks came during a webinar entitled "Countering illicit trafficking in the Central Mediterranean, Sahel, and the Gulf of Guinea." It was jointly organized by the EU Special Representative for the Sahel, and by Operation EUNAVFOR MED IRINI.
He added that IRINI is "not the solution to the Libyan crisis, but an important tool in order to set the conditions for diplomacy to enable a permanent solution for stability in Libya."
"Although the arms embargo is our primary task, the others are not less important on the international stage and for their effects on the Central Med Maritime Security and Libya's, but I would say also the Sahel's stability", Turchetto noted.
The Rear Admiral confirmed that part of the mission is also to monitor migration from the Sahel region to Libya, and into Europe.
As well as preventing any illegal oil exports from the country, which could fuel instability. Unrest in Libya, according to Turchetto "also creates the conditions for human trafficking and arms smuggling. As warring factions try to gain an advantage, and an income in order to fight their wars."
"The situation in Libya is very tense," Turchetto added. "Libyan security is tightly connected with the security situation in the Sahel and vice versa. So IRINI's work in stopping illegal trafficking operations can have reverberations a long way from the Mediterranean, where the mission mostly operates."
Notably, the operation was launched on 31 March 2020, shortly after the Berlin Conference on Libya in January 2020. This was meant to be a concrete contribution by the EU to support the return of peace and stability in Libya. Its current mandate runs until 31 March 2023.
Operation IRINI's core task is to contribute to the implementation of the UN arms embargo on Libya. This was established by the UN Security Council Resolution 1970 (2011), through the use of aerial, satellite, and maritime assets.
The mission is mandated to carry out inspections of suspicious vessels on the high seas, off the Libyan coast.