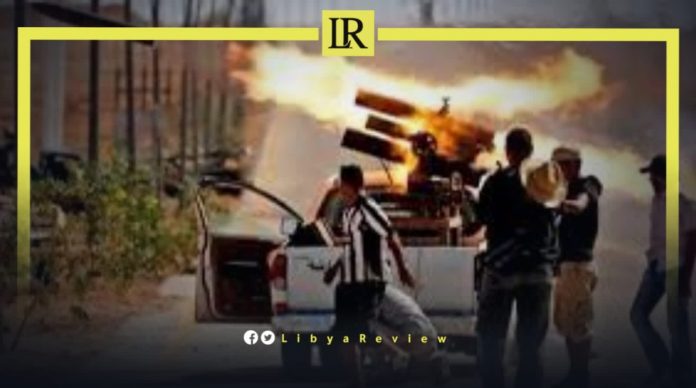 On Thursday, violent clashes erupted at dawn between armed groups at Al-Zawiya, west of Tripoli.
Several sources confirmed that the clashes took place after an attack by a militia known as the Stabilization Support Force (SSF) led by Bouzeriba, against the Criminal Investigation Apparatus militia led by Al-Far.
Sources indicated that two cars belonging to Al-Far were destroyed.
In April, at least one person was killed and over a dozen were injured following clashes in Al-Zawiya.
According to press reports, these took place between two armed groups affiliated with the Ministry of Interior and Defence in the city. Various types of medium and heavy weapons were reportedly used during the clashes.
The Tunis-based Arab Organisation for Human Rights expressed its "deep concern" over the fighting. It said in a statement that clashes taking place inside populated areas endanger the lives and properties of residents.
Western Libya continues to suffer from the control of militias, as Tripoli witnesses waves of insecurity and clashes between armed groups. Violent clashes have recently erupted between Al-Far and another militia leader, Ghnewa, leading to extensive damage to the Al-Zawiya Oil Refinery Complex.
Other clashes in the Al-Farnaj district of Tripoli took place between Ghnewa and the Judicial Police, affiliated with the (RADA) Special Deterrence Forces led by Abdel-Rauf Kara.
Notably, Libya is currently facing a political crisis after the Libyan Parliament swore in former Interior Minister, Fathi Bashagha, to lead a new interim government in February. Members of Parliament argued that incumbent PM, Abdel-Hamid Dbaiba's mandate expired when elections failed to take place.
Dbaiba has since refused to cede power, and warned that the appointment of a new interim government could lead to war and chaos in the country. He renewed his pledge to only hand power over to an elected government.