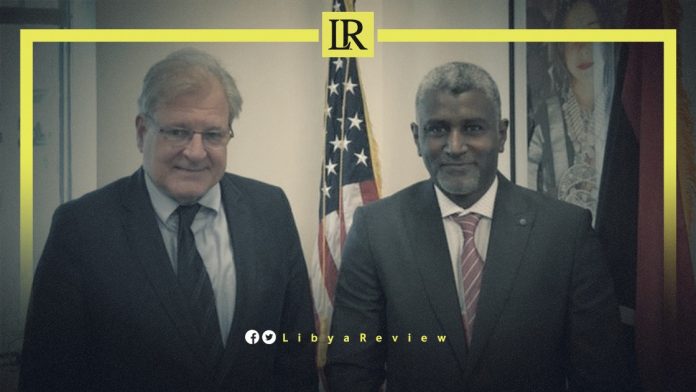 On Wednesday, the US Ambassador to Libya, Richard Norland held a meeting with Libyan Congress President, Issa Abdul Majeed Mansour to discuss the latest developments in the country.
In a statement, the US Embassy said that the duo agreed on the need for calm following yesterday's clashes in Tripoli.
It added that they also discussed the importance of dialogue, and the need to hold elections. The US Ambassador reaffirmed US support for the inclusion of the country's minorities, and all other Libyan communities in the ongoing political process.
Heavy gunfire was heard across Tripoli, where incumbent PM Abdel-Hamid Dbaiba's government is headquartered. Clashes erupted between militias after Prime Minister-designate, Fathi Bashagha entered the capital at dawn on Tuesday, in an attempt to seat his government.
Bashagha, however, left the city hours later, citing the "security and safety of citizens."
He was named PM by the eastern-based Libyan Parliament in February. This was after Dbaiba failed to hold Presidential elections, as scheduled in December. However, Dbaiba has refused to hand over power, except to an elected government.
Bashagha condemned the armed escalation carried out by militias in Tripoli. He said he was surprised by the "dangerous military escalation," despite him and his ministers entering the city peacefully.
He also condemned the endangerment of civilians describing it as "a crime punishable by law." He stressed that his government cannot "contribute to compromising the security of the capital, and its residents."
"We came with peace, wisdom, and the priority of the national interest. We defused the strife, and we were not satisfied with keeping pace with the outlaws and exposing civilians to danger," Bashagha said in a statement after leaving Tripoli.
The latest clashes have raised fears of a return to civil war.