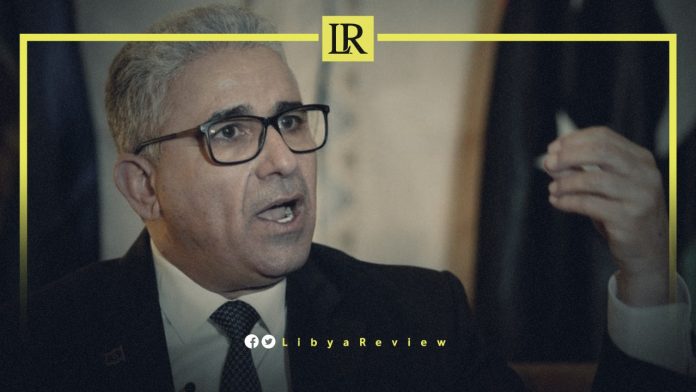 Libya's Prime Minister-designate, Fathi Bashagha said that restructuring the Board of Directors of the National Oil Corporation (NOC), would cause major problems for workers and the production of the oil sector.
Bashagha claimed he would take over the government in Tripoli in the coming days, without using force. "We have direct contact with the west of the country, with Tripoli, the political elite, the leaders of the battalions, and some societal figures," Bashagha told Reuters during an interview in Tunis. "God willing, the government will be able to carry out its duties in Tripoli in the coming days," he added.
He has repeatedly said he will not use force to enter the capital. "Our arrival in Tripoli and the government headquarters will be completely peaceful," he affirmed.
He said there were indications from inside Libya, and internationally that he would be able to take over Tripoli. As well as adding that the outgoing Government of National Unity (GNU), was not able to operate outside the city.
Bashagha claimed that Turkish forces in Libya, invited by the previous Government of National Accord (GNA) were in the country legally. "Any military presence is governed by an agreement… we can control it, and we can ask these forces to cancel the agreement or leave Libya," he said.
Member of Libya's High Council of State (HCS), Abdel-Salam Al-Safrani stated that the initiative of the UN Envoy to Libya, Stephanie Williams, "has reached a dead end."
Al-Safrani added that the only way out of the political impasse, is "through the 12th constitutional amendment, or approving the Libyan Parliaments initiative to form a new government and draft a constitution. This will then be to put it to a referendum, at a later date."
"This is the best settlement that can be implemented, and lead us to elections," Al-Safrani concluded.
On 10 February, the Speaker of the Libyan Parliament, Ageela Saleh announced the unanimous appointment of Bashagha as the new Prime Minister. But incumbent PM, Abdel-Hamid Dbaiba warned that the appointment of a new interim government could lead to war and chaos in the country. He renewed his pledge to only hand power over to an elected government.