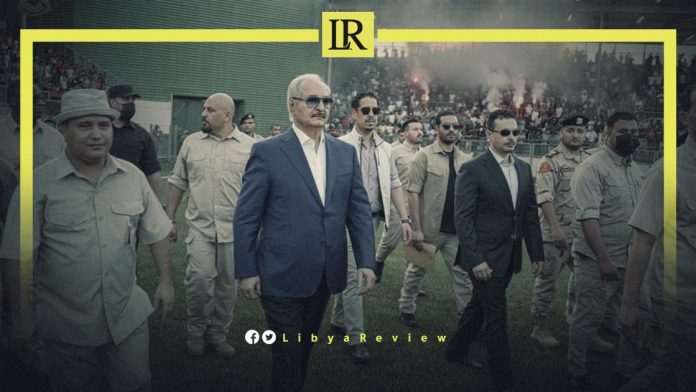 The Commander-in-Chief of the Libyan National Army (LNA), Field Marshal Khalifa Haftar affirmed that any settlement agreement is doomed to fail, unless it enjoys the support of the people.
In his speech during the celebration of the Al-Karama Military Operation, Haftar added that "any path to address the crises in Libya will not succeed, unless it stems from the will of the people."
He called on the Libyan people to "own the initiative, and draw a roadmap without anyone's guardianship."
Haftar stressed that all initiatives and agreements that ignored the people have resulted in "a drain on wealth, the spread of corruption, and threats to the safety of the nation."
The LNA leader noted that parts of western Libya have "become a hotbed for the occupier and for hired mercenaries."
Libya fell into chaos after the collapse of the regime of long-time leader Muammar Gaddafi in 2011.
Notably, the Libyan Parliament and its rival chamber, the High Council of State (HCS) will begin a third round of talks in Cairo on 12 June.
A member of the HCS, Abdel-Qader Hawaili noted that "there is great rapprochement between the two chambers." He added that "contacts and consultations between members of the western and eastern regions are continuing, in order to overcome obstacles regarding a consensus between the two chambers."
At the conclusion of the second round of consultations last month, UN advisor Stephanie Williams said the two chambers agreed in principle on 137 articles. "I am particularly pleased that you were able to agree on Chapter 2 on the rights and freedoms. As well as on the Chapters on legislative and judicial authority."
She noted that it "is important to keep in mind that the Libyan people are looking to this Committee with high hopes and expectations that your work will conclude, and lead to a full agreement On holding of national, comprehensive, and inclusive elections as soon as possible."