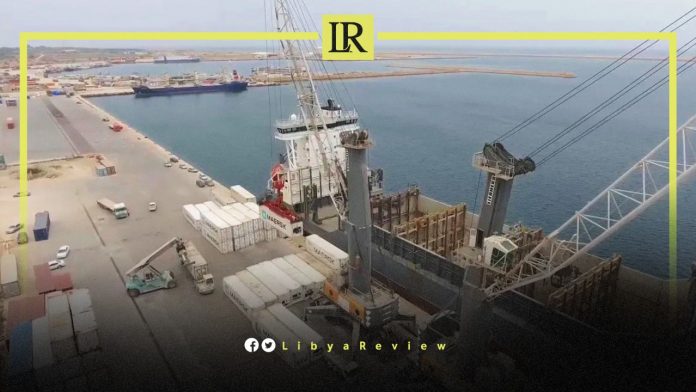 On Tuesday, commercial ships carrying calves and thousands of tons of wheat arrived at the port of Al-Khums, northwest Libya.
The Libyan Ports Company (LPC) published recent data showing the anchoring of the ship, Rick Kress to unload its 27,500 tons of wheat.
Since Russia's invasion of Ukraine, Libya has been suffering from a shortage of basic food commodities, primarily wheat and its derivatives. This has led to a hike in prices, and the closure of dozens of bakeries across the country.
Well-Informed sources at Libya's Ministry of Economy and Trade told Sky News Arabia that Libya has asked several countries to exclude it from decisions banning the export of food commodities.
"Libya's request was aimed at preventing a humanitarian crisis from occurring. Especially the flow of important commodities such as flour and oil," the source explained.
Many countries have banned the export of basic commodities for several months, in anticipation of a prolonged conflict between Russia and Ukraine. As they are among the largest producers of wheat globally, and have since banned its export.
Libya imports an estimated 650,000 tons of wheat from Russia and Ukraine, half of its annual needs.
The source revealed that Libya's reserves are "very little," pointing out that cargo ships loaded with basic goods stopped. "If exports stop more than now, goods will disappear from Libyan markets. The Trade Ministry is striving to prepare immediate alternatives," he added.
The private sector has a reporter stock of wheat equivalent to 400,000 tons, according to the same source.
Earlier, Libya's Minister of Economy, Mohamed Al-Hwaij denied any negative impact of the Ukrainian crisis on the grain market in Libya. He emphasised that "the country's strategic reserves of wheat are sufficient for more than a year."
"The Ukrainian crisis will not have a significant impact on the country's grain market because it covers only 20% of Libya's wheat imports," he said in press statements.
The minister explained that one million tonnes of wheat are consumed annually, while imports from Ukraine do not exceed 200,000 tonnes.
Al-Hwaij added that Libya's emergency stock of soft wheat is sufficient for six months, and there will be no shortage in flour. He also pointed out that "there are many alternatives" to importing wheat in the event the crisis in Ukraine continues.
The minister recalled a previous proposal to establish a grain bureau, in order to "provide a strategic stockpile of wheat in the country."