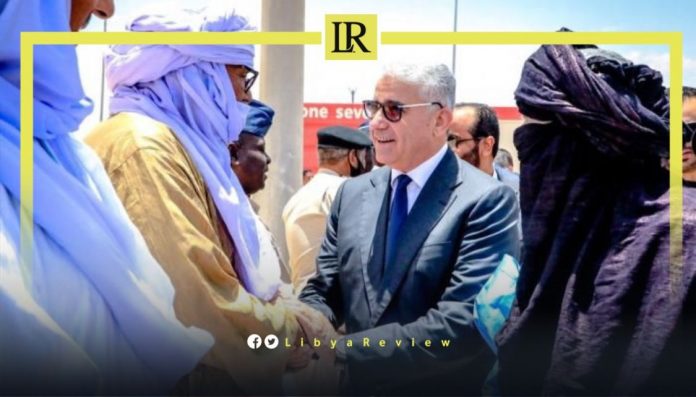 The Libyan Parliament's Prime Minister-designate, Fathi Bashagha said that "internal conflicts and political divisions have had negative effects on remote areas in Libya, especially southern cities."
During Bashagha's inspection of the Essin border crossing between Libya and Algeria, Bashagha said his government is working "to make Libya a strong country on the security level."
He pledged to support security in the south, especially the border areas. He stressed the importance of "cooperation with Algeria in securing the common borders, fully equipping them, and providing them with all the necessary capabilities."
Bashagha affirmed the necessity of stopping wars and conflicts between Libyans. "Conflicts should be ended. It is necessary to give priority to wisdom over conflicts, and to pay attention to our borders," he said.
Recently, the Libyan Parliament-designated Prime Minister, Fathi Bashagha stated that his government is keen on the security of Tripoli, and the safety of its residents.
Bashagha added that he welcomes the statement issued by the social, political, and security leaders in the Souq Al-Jumaa area. He stressed that his government is looking forward to working with the "wise men who represent the civilized face of the city of Tripoli," Bashagha tweeted.
In a statement, the Southern Commander of the LNA, Major General Al-Mabrouk Sahban stated that forces "carried out a qualitative military operation, during which they targeted a number of IS militants and destroyed armoured vehicles."
"Our desert and land reconnaissance patrols continue over the entire region in pursuit of all militant groups deployed in the southern areas. Libyan Air Force warplanes provided close air support for LNA troops advancing on the ground," he noted.
He added that the operation aimed to "hunt down the Takfiri terrorists that threaten security and stability and who are active in looting, theft, sabotage, and smuggling activities."
Soldiers were deployed across the town, and secured all entrance and exit points, the LNA official added.