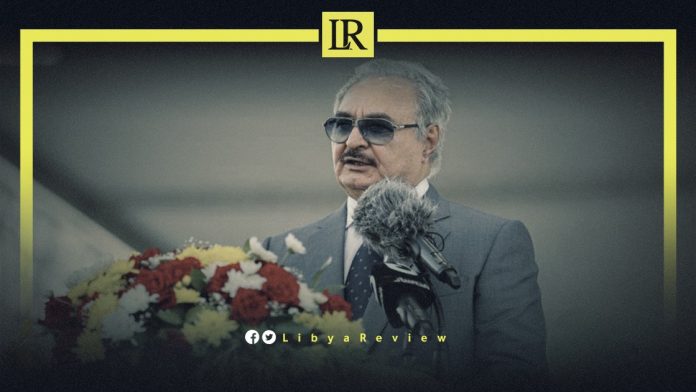 The Commander-in-Chief of the Libyan National Army (LNA), Field Marshal Khalifa Haftar stated that Libya's Al-Karama Military Operation (Operation Dignity) "was not a government project to manage the country's affairs, and provide services to citizens. Rather, it was the sole way to create a safe environment and freely enable the Libyan people to build a state."
In his speech during a ceremony held at the Green Mountain's Al-Abraq region, to mark the eighth anniversary of the Al-Karama operation, Haftar called on the attendees to "respectfully observe a minute of silence in tribute to all righteous martyrs of the LNA."
He said that the operation was "much more honourable and greater than being a military coup, for the sake of power and ruling the country."
"Despite the great gains and tremendous achievements of the Al-Karama operation, the project of building the Libyan state on constitutional foundations and by popular will has not yet seen the light of day," he added.
He confirmed that the political arena has "witnessed nothing but successive impasses, due to the exacerbation of conflicts. It is not surprising, given that all local and international agreements for a comprehensive solution did not gain legitimacy from the will of the people. Al-Karama has acquired all real meanings of the revolution, and gained popular support."
Haftar stressed that the LNA "will never forget the honourable and unprecedented positions of the Libyan people during this war, which aimed at saving our homeland from terrorism, and thwarting the scheme of subversive organizations. We want peace to prevail throughout the country and to stop the series of killing and bloodshed."
He reiterated that they have "supported every political track to build-up the state and enhance progress towards a better life. We were keen on a ceasefire and reconciliation."
Haftar stressed that all initiatives and agreements that ignored the people have resulted in "a drain on wealth, the spread of corruption, and threats to the safety of the nation." As well as adding that parts of western Libya have "become a hotbed for the occupier, and hired mercenaries."
Libya fell into chaos after the collapse of the regime of long-time leader Muammar Gaddafi in 2011.
Notably, Al-Karama started on Friday morning, 16 May 2014 in the city of Benghazi, on the orders of Haftar.
This began after terrorists conducted a series of assassinations against journalists, politicians, human rights activists, military personnel, and security officials. Fear gripped the city, with "Black Saturday" on 8 June 2013, being one of the most severe incidents prior to the operation. Protesters were attacked by the 'Libya Shield' militias led by Wissam Ben Hmeid, killing 40, and wounding 154.
The military operation was first concentrated in the city of Benghazi, followed by Derna, which had been occupied by extremist groups for years.
It led to the reactivation of the security services in several cities, which had become dormant after the 2011 revolution. It also eliminated the alliances of terrorist groups, headed by the two councils of the Benghazi Revolutionaries and Mujahideen of Derna. These included IS, Al-Qaeda, Ansar Al-Sharia, and Libya Shield fighters.