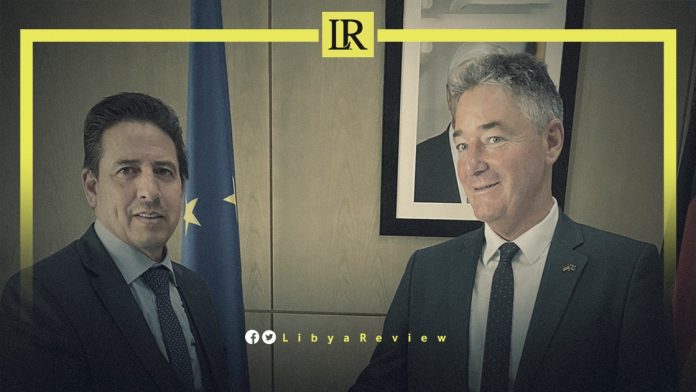 On Friday, the Chairman of the Foreign Affairs Committee of the Libyan Parliament, Youssef Al-Agouri, held a meeting with the German Ambassador to Libya, Michael Ohnmacht.
The meeting discussed the challenging situation in Libya and ways to address it to achieve security and stability in the country. The German ambassador said he underlined the centrality of the Cairo talks between the Libyan factions.
The Egyptian capital hosts meetings for the Libyan rival camps to reach agreement on the elections laws. On Thursday, the United Nations (UN) Special Adviser on Libya, Stephanie Williams, commended the members of the Joint House of Representatives (HoR) and High State Council (HSC) Committee for continuing to work toward a consensual constitutional framework to take Libya to national inclusive elections as soon as possible.
In a briefing statement, the UN Adviser urged them to fulfil their duty to the Libyan people, who have demonstrated a desire for an election by registering to vote by the millions.
She also expressed confidence that the efforts of the joint committee would put Libya on the path to stability, security, and development.
On the other hand, the Chairman of Libya's High National Elections Commission (HNEC), Emad Al-Sayeh, said that elections could be held in December 2022, if the Parliament and the HCS agree on election laws by July.
"The commission will be able to set a date for the polling day in December, if it receives the approved electoral legislation in July. If we do not receive this next month, Libya's elections will have to be postponed, because we would be unable to hold them at that time, similarly to last year," Al-Sayeh told Al-Ain news.
He explained that the commission is closely following the Cairo meetings between the Parliament and Libya's HCS. The meetings aim to find a constitutional basis for holding Presidential and Parliamentary elections.
Al-Sayeh pointed to the efforts of the United Nations Support Mission in Libya (UNSMIL), and its work to to resolve the crisis between rival parties by facilitating dialogue.
He added that G5 countries (the United States, the United Kingdom, France, Germany, and Italy) are pushing for Libya's elections. He said that the commission is in constant contact with experts from UNSMIL, in order to maintain technical consultations related to the elections.