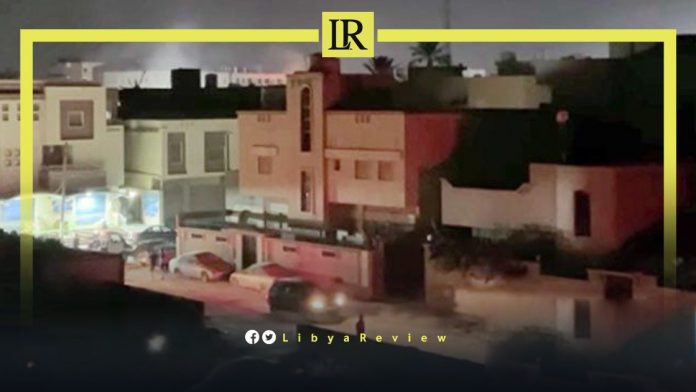 On Saturday, the Libyan Ministry of Health (MoH) said that at least 16 people were killed and 52 others were injured in overnight fighting between armed groups in Tripoli.
In a statement, the Ministry said, "the fighting "killed 16 people, among them three civilians including a child aged 11, and wounded 52.
It added that all the wounded citizens are receiving medical care inside many public hospitals in Tripoli, including: Mitiga Hospital, El Khadra Hospital, Abu Salim Hospital, Tripoli University Hospital, and Tripoli Central Hospital.
"Dozens of people were forced to take refuge on the campus of Tripoli University and in a nearby medical centre, the Ministry noted.
The clashes were between two powerful armed groups in the war-torn West of the country: the Al-Radaa force and the Tripoli Revolutionary Brigade.
Several sources said one group's detention of a fighter belonging to the other had sparked the fighting, which extended to several districts of the capital.
Tensions have been rising for months in Libya as two prime ministers vie for power; raising fears of renewed conflict two years after a landmark truce ended a ruinous attempt by the commander of the Libyan National Army (LNA) Field Marshal Khalifa Haftar to seize Tripoli.
The dead were the first civilian casualties of fighting in Tripoli since the 2020 truce.
Local resident Mokhtar Al-Mahmoudi said he and his family had spent the night in the basement. "Our kids are still terrified," he said.
"Tripoli will never find peace again as long as all these armed groups are here," he said
Libya has been gripped by insecurity since a NATO-backed uprising toppled and killed longtime leader Moammar Gaddafi in 2011, leaving a power vacuum armed groups have been wrangling for years to fill.
Both groups involved in this week's fighting are nominally loyal to Abdelhamid Al-Dbaiba's Government of National Unity (GNU), appointed last year as part of a United Nations (UN)-backed peace process to end more than a decade of violence in oil-rich Libya.
Al-Dbaiba refused to cede power to Fathi Bashagha, named in February as Prime Minister by a Parliament based in Libya's East.
The fighting forced the capital's only functioning airport, Mitiga, to close until further notice.
The United Nations Support Mission in Libya (UNSMIL) said it had received reports of civilian casualties and demanded an investigation.
"Any action that endangers the lives of civilians is unacceptable," it said in a tweet, calling on "all Libyans to do everything possible to preserve the country's fragile stability at this sensitive time."