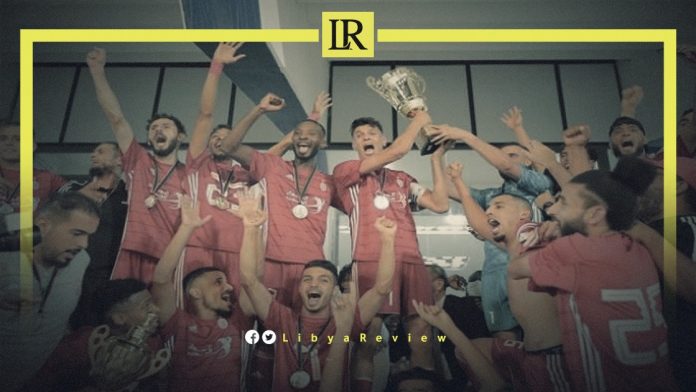 The Al-Ittihad football team won the Libyan Football Premier League title for the 18th time, after defeating its traditional rival, Al-Ahly of Tripoli 2-1 on Saturday.
Al-Ittihad ended the first half of the match with two goals. Striker Moaz Issa scored the first goal early in the third minute, while Rabie Shady scored the second during the 28th minute.
Al-Ahly's Mohamed Sharara scored in the 68th minute.
Notably, the Spokesman for Ambulance and Emergency Services of Tripoli confirmed 13 injuries as a result of the collapse of the stage.
It is the first time the final stage of the Libyan Premier League is held outside of the country. Six clubs competed for the title during a round-robin group format.
The bold step was taken by the Libyan Football Federation (LFF) following a discussion of its Board of Directors.
"The decision came as a step from us to market the Libyan League externally, and bring it back to the spotlight. Given that it was among the most prominent Arab leagues," Adel Al-Awjali, Chairman of LFF's competitions committee told BBC Sport Africa.
The move came over a year after Libya was allowed to host international matches, and continental club games again.
Libya's national team was banned from playing on home soil in 2014, but that ban was lifted in February last year. The first international match was held in Benghazi the following month.
Al-Ittihad was crowned with the 47th version of the tournament, in the play-off match that was held at the Rades stadium in Tunisia.