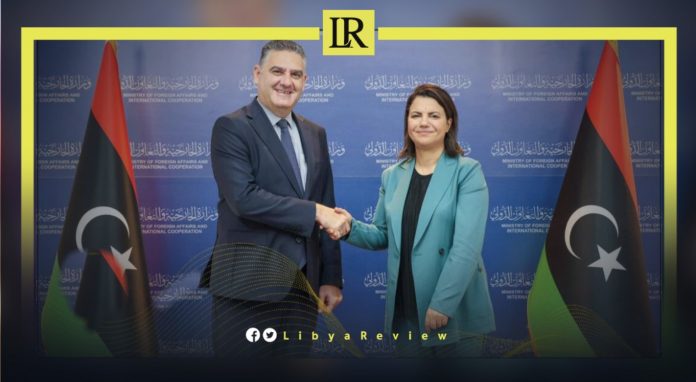 On Sunday, the Greek Ambassador to Libya, Ioannis Stamatikos completed his term as Ambassador to Libya. On this occasion, the Libyan Minister of Foreign Affairs, Najla Al-Mangoush thanked him for his efforts throughout his time.
Al-Mangoush praised the Greek Ambassador's "vital role in building strategic relations, and strengthening the bonds of friendship between the two countries," wishing him success in his next political career.
According to a statement by the Ministry of Foreign Affairs, the Greek Ambassador expressed his thanks and gratitude for the facilities provided to him by the Ministry of Foreign Affairs, and the Government of National Unity (GNU).
Libya has been mired in conflict for long stretches since Muammar Gaddafi was deposed and killed in a NATO-backed uprising in 2011. Plagued by divisions between competing institutions in the east and west, the country remains split between rival forces, with two opposing executives in place since February.
Earlier in July, clashes erupted in the Al-Furnaj neighbourhood of Tripoli between the RADA Special Deterrence Forces, and the Tripoli Revolutionaries Brigade.
It was reported that several people were killed, and the clashes resulted in damage to a number of vehicles.The reason for the clashes was the arrest of a member of the Tripoli Revolutionaries Brigade, led by Ayoub Abu Rass, by RADA forces.
Dozens of women found themselves stranded inside a wedding hall near the clashes. Video clips spread on social networking sites showing women crying out from inside wedding halls, on Al-Nawaem Street. They appealed to the fighters to stop the clashes, and open safe corridors to allow them to return home.
The biggest protests for years occurred earlier this month in cities across Libya. This underscored the anger over the lack of elections, and nonexistent public services. Militias in several cities detained people suspected of involvement, prompting the UN mission to express concern on Thursday.