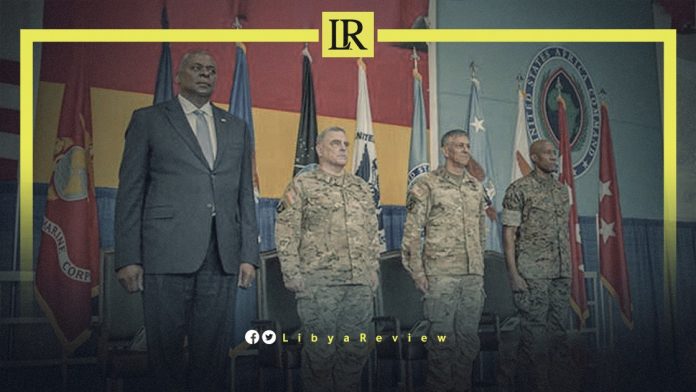 On Tuesday, US Ambassador to Libya, Richard Norland said that the American Embassy and the US Military Command in Africa (AFRICOM) look forward to supporting continued Libyan-led progress to reunify Libya's divided military institution.
In a statement, Norland praised the great efforts of the Chief of Staff of the Libyan National Army (LNA), Lieutenant-General Abdulrazek Al-Nathouri, his counterpart in the Government of National Unity (GNU) Major General Mohamed Al-Haddad, and the 5+5 Joint Military Commission (JMC) to reunify the military.
Norland's comments came on the occasion of the change in AFRICOM's leadership. General Stephen Townsend handed over his duties to the new Commander, Michael Langley in a ceremony attended by US Secretary of Defense Lloyd Austin III, and Chairman of the Joint Chiefs of Staff, General Mark A. Milley.
He pointed out that the change in AFRICOM's leadership coincides with the 82nd anniversary of the founding of the Libyan Army. "This is a day to note the important role of Libyans in military uniform committed to serving the people of Libya," the Ambassador noted.
Last month, Al-Nathouri held talks with Al-Haddad in Tripoli to review ways to reunify the Libyan military. This comes as a continuation of the Sirte meetings between the two Libyan camps.
The meeting also discussed the importance of maintaining the ceasefire and avoiding a renewal of violence.
A western JMC, Mustafa Yahya stated that the committee is working to preserve the ceasefire agreement throughout the country. As well as implementing the full terms of the agreement, including coordinating arrangements for the withdrawal of mercenaries and foreign fighters from Libya.
Yahya called on all political parties to give priority to the interest of the country, to secure a stable Libya.
The two senior military officials met earlier this year at the Mahari Hotel in Sirte. They discussed the unification of the military institution.