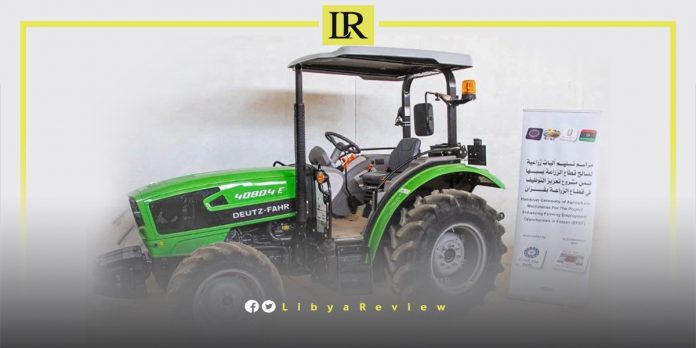 The Italy Embassy in Libya announced the donation of two tractors to the Sebha Central Agricultural Machineries Association.
It added that this was implemented as part of the "Enhancing Farming Employment of Migrants in Fezzan (EFEF)" project. This is funded by Italy's Migration Fund, and implemented by the International Centre for Advanced Mediterranean Agronomic Studies (CIHEAM), with the Ara Pacis Initiatives for Peace.
The Embassy added that additional funding, and supply of agri machineries for grain farming will take place in phase II of the project.
In early August, the Italian government agreed to allocate €3 million euros in urgent aid, to help the treatment of victims of last week's fuel tank explosion in southern Libya. In a statement, the government announced that Italy will receive 15 critical cases.
The initiative came at the proposal of the Italian Prime Minister, Mario Draghi and includes activating the Remote Centre for Health Rescue Operations, to detect available beds at the national level. As well as develop an appropriate organisational plan for the national health system to transport the injured to Italy, according to the AKI news agency.
The Italian Ministry of Foreign Affairs has also launched a €37.2 million euro package to contribute to the stabilisation of migration flows in North Africa, the Sahel, and West Africa.
According to a statement by the Italian Foreign Ministry, three projects were funded in Libya, two in Niger, and another project in the Sahel region. These aim to improve border management, and combat human trafficking.
It indicated that there will also be information campaigns launched in the Sahel, on the dangers of illegal immigration.