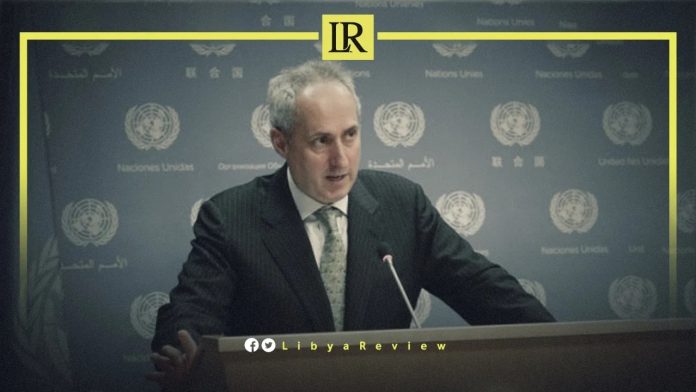 Stephane Dujarric, the Spokesman for the UN Secretary-General, Antonio Guterres revealed that he was working "to obtain the approval of members of the Security Council, over the appointment of new Special Envoy to Libya."
Dujarric called for Libya's neighbours to closely work for the benefit of the Libyan people, and end the current division.
The Spokesman renewed his call to the warring parties to "protect civilians and refrain from taking any actions that could escalate tensions and deepen divisions."
He stressed that the current acting head of the UN mission, Raisedon Zenenga "is in direct contact with the various Libyan parties with a view to finding an effective way out of the decade-long crisis."
The UN diplomat also called for an immediate cessation of violence in Tripoli, and urged the Libyan parties to "engage in genuine dialogue to address the ongoing political impasse, and not to use force to resolve their differences."
Dujarric said that the UN, "remains ready to provide its good offices and mediation to help Libyan actors chart a way out of the political deadlock, which is increasingly threatening Libya's hard-won stability."
Notably, Libya's Health Ministry reported that 32 people had been killed, and 159 wounded during the clashes.
Fighting broke out in various districts of Tripoli between groups armed with both heavy and light weapons, as two rival governments yet again vie for power in the oil-rich but impoverished North African country.
Gunshots and explosions rang through the darkened streets of Tripoli, according to media reports.
Libya has had two competing governments since March, when the eastern-based Parliament appointed Fathi Bashagha to replace Dbaiba. This renewed a standoff between the east and west of the country. Dbaiba, who was chosen as interim Prime Minister over a year ago in UN-backed talks, has refused to cede power to Bashagha.
The oil-rich country had descended into turmoil and violence following the 2011 NATO-backed uprising that toppled long-time ruler Muammar Gaddafi.