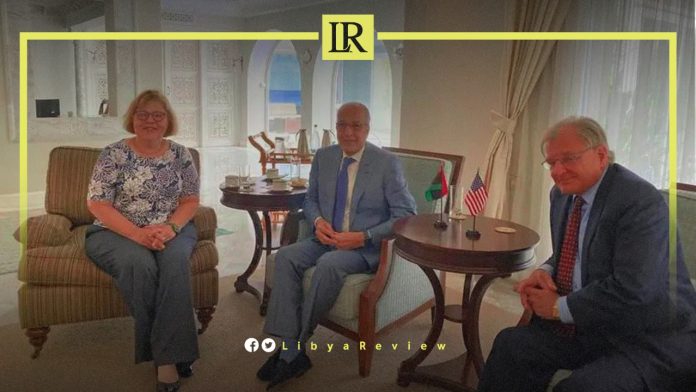 On Wednesday, the US Assistant Secretary of State for Near Eastern Affairs, Barbara Leaf held a meeting with the Governor of Central Bank of Libya (CBL) Al-Saddik Al-Kabir in Tunisia. The meeting was attended by the US Ambassador to Libya, Richard Norland.
The meeting discussed joint cooperation between the US Embassy and the US Agency for Development (USAID) in technical support programs for CBL. They also reviewed the efforts of the CBL in developing its financial transparency.
Last week, Norland met with the Al-Kabir in Tunisia and discussed ways to support Libyan-led steps toward monetary stability, diversification, and transparency.
Senior CBL and USAID officials participated in the meeting. They discussed ways to unify Libya's financial institutions, to ensure revenues benefit all Libyans.
Despite the Libyan Parliament's decision to impeach Al-Kabir, the United States continues to deal with him as the legitimate CBL Governor.
In June, the Speaker of the Libyan Parliament, Ageela Saleh assigned the Deputy Governor of the CBL, Ali Al-Hibri as acting Governor. He is "to carry out the tasks and work of the CBL Governor, until a new one is chosen by the legislative authority."
The decision is in accordance with Parliament Resolution No. 17 of 2014, which dismissed Al-Siddiq Al-Kabir as Governor of the Central Bank.
Saleh added that Al-Hibri is to remain until the CBL is unified, and approved by Parliament. He explained that the Central Bank reports to the legislative authority, in accordance with Article 2 of Law No. 1 of 2005 and its amendments. He stressed the importance of only dealing with Al-Hibri as the CBL Governor.
Libya has two governments, in the east and west, with both claiming to be the legitimate representative of the country. Each of the two blames the other for the stifling economic crisis.
The Parliament-designated Prime Minister, Fathi Bashagha claimed that "only three or four companies control the Libyan economy." He explained that "those companies are owned by family members of the Prime Minister of the Government of National Unity (GNU), Abdel-Hamid Dbaiba."
He stressed that the GNU "failed to lead Libya to elections, and does not have the will to meet the aspirations of the Libyan people." He said that Dbaiba's government "only seeks power, with the help of some countries that have certain interests in Libya."
The PM urged for "putting the Libyan economy on track, by forming a national committee tasked with preventing the monopoly of Libyan funds, at the hands of a small number of businessmen and traders."